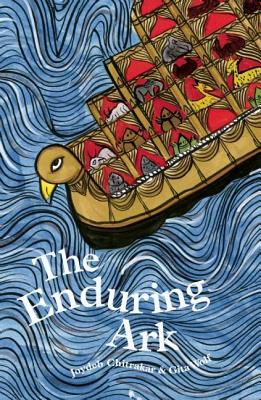 The Enduring Ark (Hardcover)
Tara Books, 9789380340180, 34pp.
Publication Date: May 14, 2013
Description
"The book's innovative accordion design illustrated in the Bengal Patua style of scroll painting is just one of the sumptuous design elements that distinguish it as a remarkable offering. . . A gorgeous re-envisioning of an old, old story." -- Kirkus Reviews Starred Review "This striking version is illustrated by Joydeb Chitrakar in a Bengali style of scroll painting--with rich colors, strong black lines." -- The Wall Street Journal "The stunning illustrations--which really constitute one continual image--reflect an openhearted, instantly accessible folk art aesthetic . . . a glorious example of storytelling's universality."-- Publishers Weekly Starred Review "An arresting first image--God's huge, baleful eye--is the visual source of all that follows. . . provocative" -- The Horn Book Magazine "This beautifully designed and intelligently produced retelling of the flood expands the bounds of bookmaking." -- Shelf Awareness In this Indian version of the Biblical tale, talented Bengali Patua scroll painter Joydeb Chitrakar leads the reader from a deluge of water to a rainbow of hope. A book that can be leafed through in the traditional way or unfolded out as an accordion, the vibrant illustrations and concise text provide a singular approach to an ancient, universal story. Suitable for children ages 6+. US Grade Level Equivalent: 3, US Guided Reading Level: O.
About the Author
A highly original and creative voice in contemporary Indian publishing, Gita Wolf is known for her interest in exploring and experimenting with the form of the book. She has written over twenty books for children and adults, many of which have been translated into multiple languages and recognized internationally. Joydeb Chitrakar is an artist working in the Patua scroll painting tradition from West Bengal in India. The Enduring Ark is his second project with Tara Books, the first being the handmade scrollbook Tsunami, an accordion book which he collaborated with his wife Moyna to produce. He lives in Nirbhaypur Village, West Bengal, India with his wife Moyna & their children.
Praise For The Enduring Ark…
"The book's innovative accordion design illustrated in the Bengal Patua style of scroll painting is just one of the sumptuous design elements that distinguish it as a remarkable offering. . . A gorgeous re-envisioning of an old, old story." Kirkus Reviews, Starred Review

"This striking version is illustrated by Joydeb Chitrakar in a Bengali style of scroll paintingwith rich colors, strong black lines, and appealingly primitive renderings of people and creatures. The pages are connected, accordion-style, so that a child can turn the pages, as in a regular book, or pull the whole thing out flat to see the story of Noah's ark unfurling" The Wall Street Journal

"The stunning illustrationswhich really constitute one continual imagereflect an openhearted, instantly accessible folk art aesthetic . . . a glorious example of storytelling's universality." Publishers Weekly, Starred Review

"This beautifully designed and intelligently produced retelling of the flood expands the bounds of bookmaking." Shelf Awareness

"It is said from time to time, the world is remade. Ancient stories talk of an age when a huge flood destroyed the earth, leaving nothing behind . . . You may have heard it before, but great tales must be retold — and so I will tell it now in my way, as I have heard it said." — from the book
Advertisement