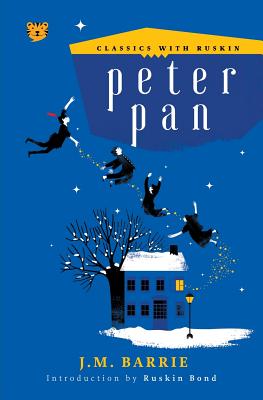 Peter Pan (Paperback)
Speaking Tiger Books, 9789387164420, 216pp.
Publication Date: December 10, 2017
Other Editions of This Title:
Digital Audiobook (10/4/2006)
Digital Audiobook (9/11/2006)
Paperback (4/25/2017)
Paperback (9/25/2019)
Paperback (1/13/2009)
Paperback (10/30/2017)
Paperback (10/7/2016)
Paperback (1/13/2017)
Paperback (9/16/2018)
Paperback (10/19/2018)
Paperback (10/7/2018)
Paperback (6/9/2015)
Paperback (10/25/2017)
Paperback (7/1/2018)
* Individual store prices may vary.
Description
A timeless tale of friendship and adventure.
When Peter Pan and his friend Tinker Bell come to visit Wendy, John and Michael, the three children are whisked away from their ordinary lives to the magical and hidden island Neverland. In Neverland they meet the Lost Boys, the ticking crocodile, and Tiger Lily the Princess. With Peter Pan they have many adventures, including a final, thrilling showdown with Peter's enemy, the cruel Captain Hook.
Funny, thought-provoking, and filled with action and adventure, the story of Peter Pan has been adapted for stage and film for over a century. In this original novel, he appears as he was first written--naughty, free spirited, the boy who never grew up. Introduced by Ruskin Bond, this classic edition will bewitch and enthrall readers all over again.