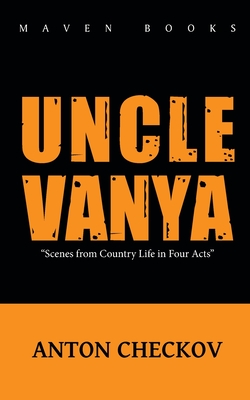 Uncle Vanya
Paperback

* Individual store prices may vary.
Other Editions of This Title:
Digital Audiobook (1/29/2014)
Paperback (12/8/2020)
Paperback (5/15/2018)
Paperback (6/21/2013)
Paperback (5/7/2020)
Paperback (11/4/2019)
Paperback (1/21/1994)
Paperback (9/2/2018)
Paperback (3/14/2014)
Paperback (10/16/2020)
Hardcover (9/20/2018)
Paperback (10/16/2020)
Paperback (5/20/2018)
Description
Uncle Vanya (Russian: Дядя Ваня, romanized: Dyadya Vanya) is a play by the Russian playwright Anton Chekhov. It was first published in 1898 and received its Moscow premi re in 1899 in a production by the Moscow Art Theatre, under the direction of Konstantin Stanislavski.The play portrays the visit of an elderly professor and his glamorous, much younger second wife, Yelena, to the rural estate that supports their urban lifestyle. Two friends-Vanya, brother of the professor's late first wife, who has long managed the estate, and Astrov, the local doctor-both fall under Yelena's spell, while bemoaning the ennui of their provincial existence. Sonya, the professor's daughter by his first wife, who has worked with Vanya to keep the estate going, suffers from her unrequited feelings for Dr. Astrov. Matters are brought to a crisis when the professor announces his intention to sell the estate, Vanya and Sonya's home, with a view to investing the proceeds to achieve a higher income for himself and his wife.
Maven Books, 9789388191494, 74pp.
Publication Date: July 1, 2021