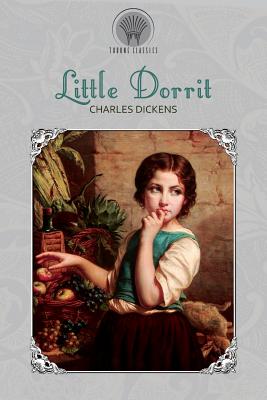 Little Dorrit (Paperback)
Throne Classics, 9789389372748, 592pp.
Publication Date: July 10, 2019
Other Editions of This Title:
Paperback (6/16/2020)
Paperback (6/11/2019)
Paperback (6/10/2019)
Paperback (4/7/2009)
Paperback (5/3/2018)
Paperback (7/24/2019)
Paperback (4/30/2018)
Paperback (4/15/2019)
* Individual store prices may vary.
Description
The novel begins in Marseilles "thirty years ago" (c. 1826), with the notorious murderer Rigaud telling his cellmate John Baptiste Cavalletto how he killed his wife. Arthur Clennam is detained in Marseilles with a group of travellers in quarantine. He meets new friends in the quarantine. He is returning to London to see his mother after 20 years in China with his father, handling that part of the family business. His father died there. On his deathbed, his father had given him a mysterious message, murmuring "Your mother," which message and a watch Arthur mails to Mrs Clennam.
Inside the watch casing is an old silk paper with the initials DNF (Do Not Forget) worked in beads. It is a message, but the implacable Mrs Clennam, who now uses a wheelchair, refuses to tell him what it means. The two become estranged.