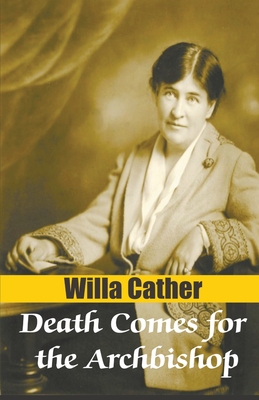 Death Comes for the Archbishop
Paperback

* Individual store prices may vary.
Other Editions of This Title:
Digital Audiobook (9/12/2016)
Paperback (10/3/2014)
Paperback (10/19/1927)
Paperback (2/27/2020)
Paperback (3/26/2020)
Paperback (8/21/2018)
Paperback (3/26/2020)
Paperback (5/14/2018)
Hardcover (1/1/1927)
Hardcover (4/1/1999)
Hardcover (10/19/1927)
Paperback (5/20/2019)
Paperback (6/16/1990)
Paperback (2/21/2020)
Paperback (7/30/2018)
Paperback (5/25/2020)
Prebound (6/1/1990)
Description
One afternoon in the autumn of 1851 a solitary horseman, followed by a pack-mule, was pushing through an arid stretch of country somewhere in central New Mexico. He had lost his way, and was trying to get back to the trail, with only his compass and his sense of direction for guides. The difficulty was that the country in which he found himself was so featureless-or rather, that it was crowded with features, all exactly alike. As far as he could see, on every side, the landscape was heaped up into monotonous red sand-hills, not much larger than haycocks, and very much the shape of haycocks. One could not have believed that in the number of square miles a man is able to sweep with the eye there could be so many uniform red hills. He had been riding among them since early morning, and the look of the country had no more changed than if he had stood still. He must have travelled through thirty miles of these conical red hills, winding his way in the narrow cracks between them, and he had begun to think that he would never see anything else. They were so exactly like one another that he seemed to be wandering in some geometrical nightmare; flattened cones, they were, more the shape of Mexican ovens than haycocks- yes, exactly the shape of Mexican ovens, red as brick-dust, and naked of vegetation except for small juniper trees. And the junipers, too, were the shape of Mexican ovens. Every conical hill was spotted with smaller cones of juniper, a uniform yellowish green, as the hills were a uniform red. The hills thrust out of the ground so thickly that they seemed to be pushing each other, elbowing each other aside, tipping each other over.
Tingle Books, 9789390354757, 182pp.
Publication Date: September 2, 2020