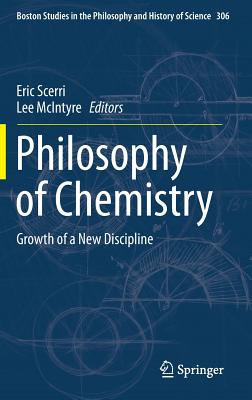 Philosophy of Chemistry
Growth of a New Discipline (Boston Studies in the Philosophy and History of Science #306)
Hardcover

* Individual store prices may vary.
Description
Chapter 1: Introduction; Eric Scerri and Lee McIntyre.- Chapter 2: Reduction for a Dappled World: Connecting Chemical and Physical Theories; Hinne Hettema.- Chapter 3: The Ontological Autonomy of the Chemical World: Facing the Criticisms; Olimpia Lombardi.- Chapter 4: A Novel Approach to Emergence in Chemistry; Alexandru Manafu.- Chapter 5: The Methodological Pluralism of Chemistry and Its Philosophical Implications; Joachim Schummer.- Chapter 6: Pragmatism and the Philosophy of Chemistry; Joseph Earley.- Chapter 7: One Substance Or More? Paul Needham.- Chapter 8: Mereological Principles and Chemical Affordances; Rom Harre.- Chapter 9: Metaphor in Chemistry: An Examination of Chemical Metaphor; Farzad Mahootian.- Chapter 10: From Corpuscles To Elements: Chemical Ontologies From van Helmont To Lavoisier; Marina Paola Banchetti-Robino.- Chapter 11: Mendeleev and the Rare-Earth Crisis; Pieter Thyssen and Koen Binnemans.- Chapter 12: Radicals, Reactions, Realism; Klaus Ruthenberg.- Chapter 13: Orbital Symmetry, Idealization, and the Kairetic Account of Scientific Explanation; Grant Fisher.- Chapter 14: Investigating the Meaning of the Ceteris Paribus Clause in Chemistry; Jean-Pierre Llored.
Springer, 9789401793636, 233pp.
Publication Date: December 1, 2014
About the Author
Eric Scerri was educated at the Universities of London, Cambridge and Southampton. He then obtained a PhD in the History & Philosophy of Chemistry from King's College, London. After postdoctoral fellowships at the London School of Economics and Caltech Scerri joined the UCLA faculty in 2000, where he teaches chemistry, history & philosophy of science. He is the author of three award-winning books with Oxford University Press, namely The Periodic Table, Its Story and Its Significance, A Very Short Introduction to the Periodic Table and most recently A Tale of Seven Elements. In addition Scerri has published two books of his own collected research papers on the history & philosophy of chemistry and as well as co-editing three further books on the philosophy of chemistry. His books have been translated into fifteen languages, and he is currently working on two new books. He is also is the founder and editor-in- chief of the journal Foundations of Chemistry.Scerri's research includes topics such as the extent to which chemistry is reduced to quantum mechanics and the historical and philosophical significance of the periodic system. He has appeared on radio and television and at lectures in countries all round the world and has published numerous articles in professional journals as well as more popular magazines including Scientific American, American Scientist, New Scientist etc.Lee McIntyre is a Research Fellow at the Center for Philosophy and History of Science at Boston University and an Instructor in Ethics at Harvard Extension School. He holds a B.A. from Wesleyan University and an M.A. and Ph.D. in philosophy from the University of Michigan at Ann Arbor. He has taught philosophy at Colgate University, Boston University, Tufts Experimental College, Simmons College, and Harvard Extension School. He is Coordinating Editor of the journal Foundations of Chemistry. Formerly Executive Director of the Institute for Quantitative Social Science at Harvard University, McIntyre has also served as a policy advisor to the Executive Dean of the Faculty of Arts and Sciences at Harvard and as an Associate Editor in the Research Department of the Federal Reserve Bank of Boston. He is the author of Laws and Explanation in the Social Sciences (Westview Press, 1996) and Dark Ages: The Case for a Science of Human Behavior (MIT Press, 2006), which won the Silver Award for Philosophy in ForeWord Magazine's Book of the Year Awards for 2006. He is the co-editor (with Michael Martin) of Readings in the Philosophy of Social Science (MIT Press, 1994) and Philosophy of Chemistry (Springer, 2006) (with Eric Scerri and Davis Baird). He has also written numerous philosophical essays that have appeared in Synthese, Philosophy of the Social Sciences, Teaching Philosophy, Perspectives on Science, Biology and Philosophy, Critica, and Theory and Decision, as well as articles that have appeared in The Humanist, The Times Higher Education Supplement and The Chronicle of Higher Education.