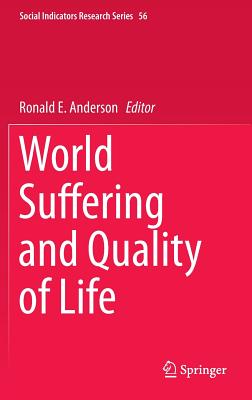 World Suffering and Quality of Life (Social Indicators Research #56)
Hardcover

* Individual store prices may vary.
Other Editions of This Title:
Paperback (10/9/2016)
Description
Part I World Suffering: A Challenge to Humanity, Humanitarianism and Human Rights.- 1 Implications of World Suffering for Human Progress, Ronald E. Anderson.- 2 Silencing of Sexual Violence against Men in War Torn Countries, Elise Feron.- 3 Social Suffering and Critical Humanitarianism, Iain Wilkinson.- 4 Compassion, Cruelty, and Human Rights, Natan Sznaider.- 5 Making Sense of Suffering: Insights from Buddhism and Critical Social Science, Ruben Flores.- 6 Distant Suffering: The Mediation Of Humanitarian Disaster, Johannes von Engelhardt and Jeroen Jansz.- Part II Professional and Informal Caregiving.- 1 Suffering and Identity: "Difficult Patients" in Hospice Care, Cindy L. Cain.- 2 Healing Suffering: The Evolution of Caring Practices, Nancy E. Johnston.- 3 Meaning in Bereavement, Robert A. Neimeyer.- 4 Coping with the Suffering of Ambiguous Loss, Pauline Boss.- 5 Social Suffering and an Approach to Professionals' Burnout, Graciela Tonon, L a Rodriguez de la Vega, and In's Aristegui.- 6 The Invisible Suffering of HIV and AIDS Caregivers in Botswana, Gloria Jacques.- 7 Loneliness as Social Suffering: Social Participation, Quality Of Life, and Chronic Stroke, Narelle Warren and Darshini Ayton.- Part III Quality of Life: Global, Community, and Personal.- 1 Child Well-being and Child Suffering, Kenneth Land, Vicki Lamb, and Qiang Fu.- 2 Felt-Suffering and its Social Variations in China, Yangie Bian and Jing Shen.- 3 Suffering Ailments and Addiction Problems in the Family, Mariano Rojas.- 4 Suffering and Good Society analysis across African countries, Ferdi Botha.- 5 Lifetime Suffering and Capabilities in Chile, Francisca Dussaillant and Pablo Gonzalez.- 6 Shame, Humiliation and Isolation: Missing Dimensions of Poverty Analysis and Suffering, China Mills and Diego Zavaleta.- Part IV Suffering and Community: Online and offline contexts.- 1 The Cultural Geography of Community Suffering, Daina Cheyenne Harvey.- 2 Social organization of suffering and justice-seeking in a tragic day care fire disaster, Eric C. Jones and Arthur D. Murphy.- 3 Community Quality of Life indicators to avoid tragedies, Rhonda Phillips.- 4 Community Action to Alleviate Suffering from Racism: The Role of Religion and Caring Capital in Small City USA, Meg Wilkes Karraker.- 5 Suffering in Online Interactions, Katrin D veling & Katrin Wasgien.- 6 Cosmopolitan Perspectives on Suffering, Laura Robinson.- 7 Iconography of Suffering in Social Media: Images of Sitting Girls, Anna Johansson & Hans Sternudd.- Part V Research and Policy Challenges for the Future.- 1 The Neurosociology of Social Rejection and Suffering, David D. Franks.- 2 Collaborative Humanitarianism: Information Networks that Reduce Suffering, Louis-Marie Ngamassi Tchouakeu and Andrea H. Tapia.- 3 A New Method For Measuring and Analyzing Suffering-Comparing Suffering in Italian Society, Marco Fattore and Filomena Maggino.- 4 The Micropolitics of Suffering, Ara Francis and Daina Cheyenne Harvey.- 5 Emotions, empathy and the choice to alleviate suffering, Caitlin O. Mahoney & Laura M. Harder.- 6 How Suffering Challenges our Future, Ronald E Anderson.
Springer, 9789401796699, 439pp.
Publication Date: March 5, 2015
About the Author
Ronald (Ron) E. Anderson is emeritus professor of sociology at the University of Minnesota. His legacy includes seven books, over 100 articles, 150 presentations at professional meetings, 15 large research grants, and at least 40 consulting positions. Most of his work has related to technology applications or impact and he was the first Chair of the ASA microcomputer group that later changed its name to CITASA. In 2009, he established the Foundation for Compassionate Societies, a 501c3 nonprofit organization, its principle mission being to foster compassion around the world and to maintain the website CompassionateSocieties.org. For two decades, he coordinated research on information technology in K-12 education in over 25 countries. Dr. Anderson, as the United States National Research Coordinator for the IEA Computers in Education study, secured a large grant from the National Science Foundation to conduct that assessment in 1992. With Henry Becker, he received funding for the "Teaching, Learning and Computing" which included a nationwide survey of K-12 schools and teachers in 1998. Professor Anderson served on the International Steering Committee for the IEA computer and technology studies from 1990 to 2007, co-chairing it for half that time. Dr. Anderson was invited to give numerous presentations on national as well as international aspects of these international technology studies. Many of these presentations were to the National Academy of Sciences Board on Comparative International Studies in Education. He and three colleagues compiled a landmark compendium of technology policy and practices for 37 leading countries: Plomp, T., Anderson, R. E., Law, N., and Quale, A., Editors, Cross-National Information and Communication Technology - Policies and Practices in Education. Greenwich, CT, USA: Information Age Publishing, 2009 (Revised 2nd edition). In addition, he was co-author with Hans Pelgrum of the book coming out of the IEA SITES Module 1 study entitled ICT and the Emerging Paradigm for Life Long Learning: A Worldwide Educational Assessment of Infrastructure, Goals and Practices. (Amsterdam: International Association for the Evaluation of Educational Achievement, 2001). Since retiring from the University of Minnesota in 2005, he published several articles on gender and technology in encyclopedias and handbooks. In 2012, he published two articles, one on the development of a microsimulation model to study college student retention and the other, a study of the network structure of websites devoted to caring, compassion, and disaster relief. Since 2009, he has given numerous lectures and presentations on measuring worldwide compassion and suffering and on the nature of world suffering.