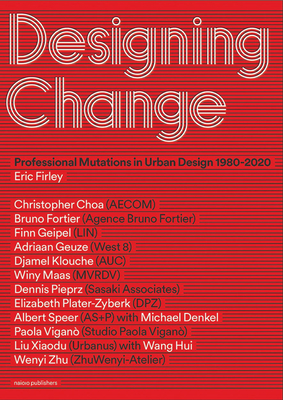 Designing Change
Professional Mutations in Urban Design 1980-2020
Paperback

* Individual store prices may vary.
Description
Designing Change collects in-depth interviews with 12 leading urban planners, architects and designers concerning the rapid increase in urbanization in the 21st century. By way of extensively illustrated case studies (with over 400 images in color and black and white) and theoretical debates, the contributors grapple with the effective dead ends of postwar urbanism and discuss new viewpoints for imagining the future of planning. The publication was initiated and led by Eric Firley, associate professor at the University of Miami School of Architecture, who is known for leading the Urban Handbook textbook series published by Wiley. The interview subjects selected for this book include Bruno Fortier, Winy Maas, Wenyi Zhu, Christopher Choa, Adriaan Geuze and Paola Vigan , who come from a variety of architectural and engineering backgrounds such as infrastructure, civil engineering and neighborhood-based master planning.
Nai010 Publishers, 9789462084810, 512pp.
Publication Date: June 25, 2019