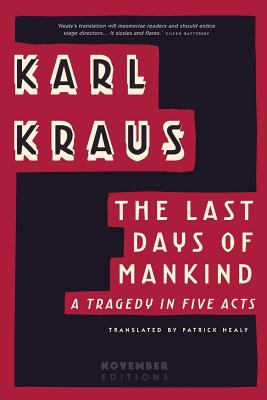 The Last Days of Mankind (Paperback)
A Tragedy in Five Acts
November Editions, 9789492027030, 658pp.
Publication Date: February 11, 2016
Other Editions of This Title:
Paperback (4/24/2014)
Hardcover (11/24/2015)
* Individual store prices may vary.
Description
NOW THE SUBJECT OF A MAJOR STAGE PRODUCTION FEATURING THE TIGER LILLIES WORLD PREMIERE IN EDINBURGH'S LEITH THEATRE ON 11-11-2018.
Intended 'for a theatre on Mars', with a cast of nearly 500 and running to over 200 scenes, Karl Kraus's apocalyptic tragedy 'The Last Days of Mankind' is the longest play ever written. It is also a bitingly satirical commentary on the outbreak and subsequent horrors of World War I. Kraus (1874-1936) ranks as one of the greatest twentieth-century satirists. In 1899 he established his own journal, 'Die Fackel' (The Torch), to 'drain the marsh of empty phrase-making.' His work comprises essays, short stories, poetry and aphorisms, and culminated in the five-act play presented here.
First published in 1920, 'The Last Days' employs a collage of modernist techniques to evoke a despairing and darkly comical vision of the Great War from the perspective of the author's hometown, Vienna. At its centre, Kraus places a cabal of war-mongering press barons and self-serving hacks, whose strategies of mass manipulation he holds responsible for the very atrocities they report.
With this translation of the play in its entirety, Patrick Healy completes the work begun in 2014 when he published the first ever English-language version of the Prologue and Act I in 'In These Great Times', a selected anthology of Kraus' work. The present edition features an introduction and a glossary of relevant names and terms.
About the translator: Patrick Healy is a philosopher, writer and senior lecturer at the Technical University Delft. He lives in Amsterdam. His earlier translations include Karl Kraus, 'In These Great Times: Selected Writings' and Carl Einstein's 'Bebuquin' and 'Negro Sculpture'. In the spring of 2016 his translation of Max Raphael's early critical writings appeared as 'The Invention of Expressionism'. For more information, visit www.patrick-healy.com