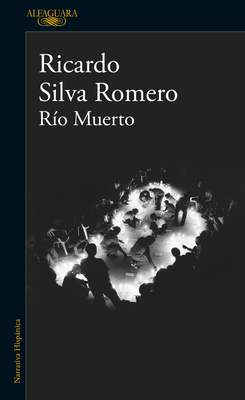 Río muerto / Dead River
Paperback

* Individual store prices may vary.
Description
«Se cuenta y se vuelve a contar, con estas mismas palabras que he estado usando,la fábula real de la madre que un día bisiesto fue de verdugo en verdugo pidiendo a los gritos que los mataran a ella y a sus dos hijos porque les habían dejado la familia sin padre».

A las afueras de Belén del Chamí, un pueblo que aún no consigue aparecer en el mapa de Colombia, el mudo Salomón Palacios es asesinado a unos pasos de su casa. Después de los primeros días de duelo, su viuda, la corajuda y deslenguada Hipólita, vuelve de la oscuridad del tormento para perder de una vez por todas la cordura y salir a buscar su propio fin. Pero en medio de aquel viaje desesperado #y en el enfrentamiento con un bestiario de personajes llenos de humor y de vida en el contexto de la muerte# se topará con una tardía e inesperada vocación por seguir viva.

Río Muerto es una de las novelas más personales de su autor, pues en ella retrata de manera vertiginosa, conmovedora y descarnada #y además de primera mano# la pérdida del padre, el duelo y la desintegración de los lazos familiares a causa de la violencia. Y confirma una intuición que ha rondado toda su obra: la de cómo lo invisible #la imaginación, la memoria, la esperanza, la ficción, la conexión con el más allá, el destino# puede resolvernos los peores dramas.

ENGLISH DESCRIPTION

Story tells of a fable about a mother who on a leap day went to every criminal and hit man in town crying out desperately for them to kill her and her two children because they had left her family fatherless.
 
On the outskirts of Belén del Chamí, a town that has yet to appear on any map of Colombia, the mute Salomon Palacios is murdered a few steps from his home. After the first days of mourning, his widow, the courageous and foul-mouthed Hipolita, returns from the darkness of her anguish only to completely lose her sanity and go out to seek her own end. But in the midst of that desperate journey —and as she faces those criminals that are nothing short of beasts, but full of humor and life in the context of death— she will run into an unexpected calling to stay alive.
 
Río Muerto / Dead River is one of its author's most personal novels; in a vertiginous, moving, and stark way, and also firsthand, he portrays the loss of a father, as well as the grief and breakdown of families due to violence. He also confirms an intuition that has been present for his entire work: that of how the invisible —imagination, memories, hope, a connection with the afterlife, destiny— can solve the worst problems.
Praise For Río muerto / Dead River…
Se ha dicho sobre el autor y su obra:

«En Cómo perderlo todo, Ricardo Silva Romero se infiltra en otras vidas, aparentemente simples, para demostrar, en las contradicciones del amor, la inviabilidad de la condición humana. Una novela necesaria para entender la histeria y el odio de nuestro tiempo». -Jorge Franco Sobre Cómo perderlo todo

«Uno de los libros más bellos que he leído últimamente, y también una de las exploraciones más certeras y más conmovedoras de una pregunta esencial:cómo llevar una vida buena en un país tan violento, tan mezquino y tan cruel como la Colombia de las últimas décadas». -Juan Gabriel Vásquez
Sobre Historia oficial del amor

«Si la envidia no dispone otra cosa, la novela de Ricardo Silva Romero, escrita con una prosa originalísima y llena de humor, está destinada a convertirse en un hito en la historia de la narrativa en Colombia». -Enrique Santos Molano Sobre El libro de la envidia

«Una novela de horror, un horror cercano y doloroso porque es el nuestro, el que vemos en las noticias, el que sabemos que pasa todos los días en este país: es la historia de una masacre».
Pilar Quintana -Sobre El Espantapájaros
Alfaguara, 9789585118096, 160pp.
Publication Date: February 23, 2021
About the Author
Ricardo Silva Romero (Bogotá, 1975) es autor de las novelas Relato de Navidad en La Gran Vía, Walkman, Tic, Parece que va a llover, Fin, El hombre de los mil nombres, En orden de estatura, Autogol, Érase una vez en Colombia -compuesta por Comedia romántica y El Espantapájaros- y El libro de la envidia. Su obra la completan dos colecciones de relatos, dos poemarios, un par de libros sin género y la web www.ricardosilvaromero.com. Es columnista del diario El Tiempo y de El País de España. En 2019 ganó el V Premio Biblioteca De Narrativa Colombiana por su novela CÓMO PERDERLO TODO.