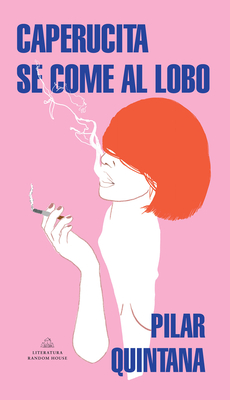 Caperucita se come al lobo / Little Red Riding Hood Eats the Big Bad Wolf
Paperback

* Individual store prices may vary.
Description
Cuentos de Pilar Quintana que no dejarán a nadie indiferente.

Un libro de relatos por la ganadora del Premio Alfaguara de Novela 2021 y finalista del National Book Award.

Los ocho relatos que componen este libro exploran las más fuertes pulsiones detrás de las relaciones de pareja: el amor, la obsesión, los celos, la rabia, la apatía, la ternura, pero sobre todo el deseo. Las fantasías, perversiones y atrevimientos sexuales son los grandes protagonistas de este volumen de cuentos, en el que, entre el realismo y la fantasía, entre lo descarnado, el humor y la ironía, y con un lenguaje llano y rico a la vez, Pilar Quintana consigue sorprender e inquietar a los lectores.

ENGLISH DESCRIPTION

Stories by the Finalist of NBA Awards and Winner of the Premio Alfaguara de Novela 2021, Pilar Quintana, that will move every reader.

 
The eight stories in this book explore the strongest feelings behind romantic relationships: love, obsession, jealousy, anger, apathy, tenderness, but above all desire. Fantasies, perversions, and sexual boldness are the main protagonists in these stories, which, amid realism and fantasy, amid the rawness, humor, and irony, and with both a simple yet rich language, Pilar Quintana manages to surprise and disturb readers.
Praise For Caperucita se come al lobo / Little Red Riding Hood Eats the Big Bad Wolf…
La crítica ha dicho....

«En estos cuentos, Pilar Quintana nos lleva de la mano por el dolor, la angustia y el deseo de personajes memorables. Su obra es como un bosque muy hermoso en el que ni los lobos están a salvo ni hay hadas madrinas».
Antonio García Ángel

«Pilar Quintana nos sumerge con exquisita gracia en las zonas más turbias de unos sujetos que desean, sufren, abusan y gozan a destajo. Unos hombres y unas mujeres capaces de comérselo todo. Un libro que arde y remece».
Alejandra Costamagna

«Un libro que explora las perversiones eróticas con un objetivo más amplio que el de excitar. El material con el que Pilar Quintana trabaja es sensibilísimo y es precisamente su valentía sin prejuicios, que perturba, la que hace recomendable la lectura de estos relatos».
Alba Lara Granero

Sobre La Perra...

«En La perra, Pilar Quintana hila con extraordinaria maestría la naturaleza humana junto al caos del universo. Es una novela llena de incógnitas sobre los deseos incumplidos, la culpa y los lugares por donde aún circula el amor».
Gabriela Alemán

«La magia de esta breve novela es su capacidad para hablar de muchas cosas,todas ellas importantes, mientras parece ocuparse de algo completamente distinto. ¿Qué son esas cosas? La violencia, la soledad, la resiliencia, la crueldad. Quintana hace maravillas con su prosa desilusionada, sobria, poderosa».
Juan Gabriel Vásquez

«La perra es una novela de una violencia verdadera. Como la artista que es, Pilar Quintana encuentra heridas que no sabíamos que teníamos, señala su belleza,y luego arroja en ellas un puño de sal».
Yuri Herrera
Literatura Random House, 9789585581326, 104pp.
Publication Date: February 23, 2021
About the Author
Ha publicado cuatro novelas: Cosquillas en la lengua (2003), Coleccionistas de polvos raros (2007), Conspiración iguana (2009) y La perra (2017; Premio EAFIT 2018 y PEN Translates Award 2019; traducida al inglés, el danés, el holandés, el italiano, el alemán, el griego, el hebreo, el francés, el portugués y el islandés) y la colección de cuentos Caperucita se come al lobo (versión con seis cuentos: 2012; versión con ocho cuentos: 2020). En 2007 fue seleccionada por el Hay Festival entre los 39 escritores menores de 39 años más destacados de Latinoamérica. En 2010 recibió el VIII Premio de Novela La Mar de Letras por Coleccionistas de polvos raros. Actualmente vive en Bogotá.