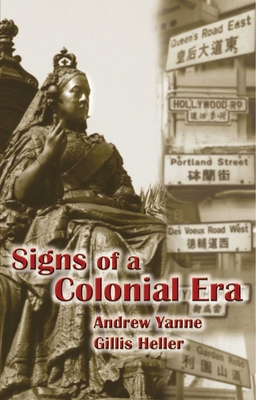 Signs of a Colonial Era (Paperback)
Hong Kong University Press, 9789622099449, 208pp.
Publication Date: July 1, 2009
* Individual store prices may vary.
Description
In the street names of Hong Kong, a rich history of the city can be found. The authors, in this illustrated book, explore that history as they explain the origins and meanings of those names. Through their exhaustive research, Signs from a Colonial Era provides the stories behind the well-known streets and those that are obscure and puzzling. But a few have resisted their efforts, so there is a chapter of mysteries to intrigue and challenge the reader. This is a book to be read in two ways. From the front you can find all the streets named after royalty, or governors, or other groups such as taipans, and see the naming of streets as a narrative of Hong Kong's development and society. In the other direction, starting from the index, it can be used as a reference book to find the answers to those names that have long puzzled you. The bilingual author team gives the Chinese street names, exploring those that were just chosen to sound like the English name and sometimes changed to avoid unfortunate Cantonese meanings, and those others for which the Chinese name has no connection with the English one. This is a book for everyone who has ever puzzled over a street name as they explore Hong Kong.
About the Author
Andrew Yanne is a native of Hong Kong, educated in the U.K., now retired from textile manufacturing. He has had a life-long interest in photography. Gillis Heller is a long-time resident of Hong Kong, a lawyer for a public company, with a keen interest in Hong Kong history. Andrew Yanne is Gillis Heller's mother's younger brother.
Praise For Signs of a Colonial Era…
"This is an interesting, useful and well-researched book, which will appeal to many readers. The street names and other place names of Hong Kong are perennially fascinating, and this book will answer many hard questions." —Dr Patrick H. Hase, immediate pa
"This is an absorbing book which historians and general readers have long been waiting for. We 'Old Hong Kong Hands' are not infrequently asked how a certain street or road got its name. Signs of a Colonial Era will provide most of the answers." —Dr Dan W
"Fertile with detail and information, yet easily accessible, entertaining and indispensable to serious students of the toponymics of colonial societies and informed general readers alike, Signs of a Colonial Era provides a long overdue, sign-post-led, det
or
Not Currently Available for Direct Purchase