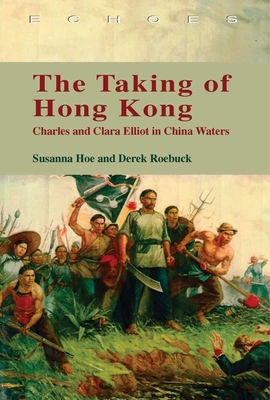 The Taking of Hong Kong (Paperback)
Charles and Clara Elliot in China Waters
Hong Kong University Press, 9789622099883, 312pp.
Publication Date: October 8, 2009
Other Editions of This Title:
Hardcover (5/1/1999)
* Individual store prices may vary.
Description
Relations between Britain and China have, for over 150 years, been inextricably bound up with the taking of Hong Kong on 26 January 1841. The man responsible—Britain's Plenipotentiary Captain Charles Elliot—was recalled by his government in disgrace and has also been vilified ever since by China. This book tells a different story. Describing the taking of Hong Kong from Elliot's point of view—through the personal letters of himself and his wife Clara—it shows a man of intelligence, conscience and humanitarian instincts. On three occasions, for example, Elliot insisted on negotiating with the Chinese as British forces were poised to take the large and prosperous city of Canton. These revelations about Elliot's role, intentions and analysis are significant and could make an important difference to our understanding of the dynamics of Sino-British relations. On a different level, the book explores how Charles, the private man, with his wife by his side, experienced events, rather than how Elliot the public figure reported them to the British Government. This book is both for students and scholars of East Asian history and for the general reader. It also has appeal for readers of biography and letters, of naval history, of women's place in history and Victorian politics and mores.
About the Author
Susanna Hoe has also written Lady in the Chamber (1971); God Save the Tsar (1978); The Man Who Gave His Company Away A Biography of Ernest Bader, Founder of the Scott Bader Commonwealth (1978); The Private Life of Old Hong Kong Western Women in the British Colony 1841–1941 (1991); Chinese Footprints Exploring Women's History in China, Hong Kong and Macau (1996); (ed) Stories for Eva A Reader for Chinese Women Learning English (1997); Women at the Siege, Peking 1900 (2000); At Home in Paradise A House and Garden in Papua New Guinea (2003); Madeira Women, History, Books and Places (2004); Crete Women, History, Books and Places (2005); Watching the Flag Come Down An Englishwoman in Hong Kong 1987–97 (2007). Derek Roebuck is author, author or editor of more than forty books in ten languages on law and legal history, including the Credit and Security series (10 volumes 1973–80, with David Allan and Mary Hiscock); The Whores of War Mercenaries Today (1997, with Wilfred Burchett); the bilingual Digest of Hong Kong Law (7 volumes 1995–97); The Background of the Common Law (2nd edition 1990); Introduction to Law in the Hong Kong SAR (1996, with Ian Dobinson); and 5 volumes on the history of arbitration A Miscellany of Disputes (2000); Ancient Greek Arbitration (2001); The Charitable Arbitrator How to Mediate and Arbitrate in Lous XIV's France (2002); Roman Arbitration (2004, with Bruno de Fumichon); Early English Arbitration (2008).
Praise For The Taking of Hong Kong: Charles and Clara Elliot in China Waters…
". . . The first original contribution to the debate on the opium war in a very long time." —Peter Wesley-Smith, author of Unequal Treaty 1898–1997
or
Not Currently Available for Direct Purchase