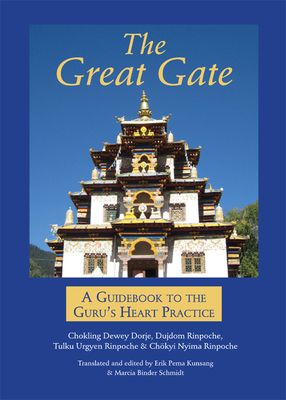 The Great Gate (Paperback)
Rangjung Yeshe Publications, 9789627341048, 160pp.
Publication Date: October 14, 2008
Description
The Great Gate, A Guidebook to the Guru's Heart Practice, is a compilation of instructions on the preliminary practices by the great masters, Chokling Dewey Dorje, Dudjom Rinpoche, Tulku Urgyen Rinpoche & Chokyi Nyima Rinpoche. Clear direct and personal, these teachings lucidly explain the application of key practices in the Vajrayana path, the pinnacle of which is the Great Perfection, the deepest and most undeviating way to attain enlightenment. The methods of the masters presented in this book focus on the simple approach of a meditator that is saturated with direct, pithy instructions. This is a tradition of plainly and simply stating things as they are, allowing the student to gain personal experience by challenging their intellect and guiding them towards realization.
About the Author
Nyingma School master Tsikey Chokling Rinpoche (c.1870--c.1940) was the first incarnation of the revered Treasure Revealer Chokgyur Dechen Lingpa. Tulku Urgyen Rinpoche (1921--1996) is considered one of the great modern meditation masters; Chokyi Nyima Rinpoche is his spiritual heir. H. H. Dujdom Rinpoche (1904--1987) was the supreme head of the Nyingma lineage. Erik Pema Kunsang, and his partner and editor Marcia Schmidt are the founders of Ranjung Publications.
Advertisement