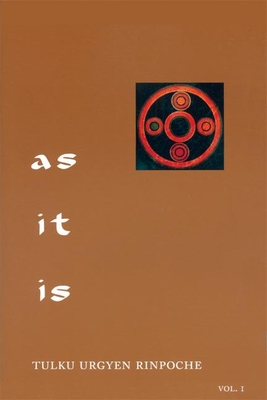 As It Is, Volume I: Essential Teachings from the Dzogchen Perspective (Paperback)
Essential Teachings from the Dzogchen Perspective
Rangjung Yeshe Publications, 9789627341352, 224pp.
Publication Date: June 29, 2004
Description
The teachings presented in As It Is, Volume I are primarily selected from talks given by the Dzogchen master, Tulku Urgyen Rinpoche, in 1994 and 1995, during the last two years of his life. The unambiguous Buddhist perception of reality is transmitted in profound, simple language by one of the foremost masters in the Tibetan tradition. Dzogchen is to take the final result, the state of enlightenment itself, as path. This is the style of simply picking the ripened fruit or the fully bloomed flowers. Tulku Urgyen's way of communicating this wisdom was to awaken the individual to their potential and reveal the methods to acknowledge and stabilize that prospective. His distinctive teaching style was widely known for its unique directness in introducing students to the nature of mind in a way that allowed immediate experience. This book offers the direct oral instructions of a master who inspired admiration, delight in practice, and deep trust and confidence in the Buddhist way.
About the Author
Tulku Urgyen Rinpoche (1920-1996) was one of the outstanding Tibetan Buddhist teachers of his generation. Forced into exile by the Communist invasion of Tibet, he came to settle in the Kathmandu Valley in Nepal. Though spending over 25 years in retreat, he not only taught extensively, but also founded numerous monasteries and retreat centers the world over. He is the author of such popular books as "Rainbow Painting" and "As It Is Vols. I & II."
Praise For As It Is, Volume I: Essential Teachings from the Dzogchen Perspective…
"Tulku Urgyen Rinpoche's direct oral instructions inspired admiration, delight in practice, and deep trust and confidence in the teachings among those who met him. His words always helped their minds, in the sense that applying even some of his advice reduced disturbing emotions and naturally allowed compassion, love and insight to blossom."- Chökyi Nyima Rinpoche, Introductory Teachings
Advertisement