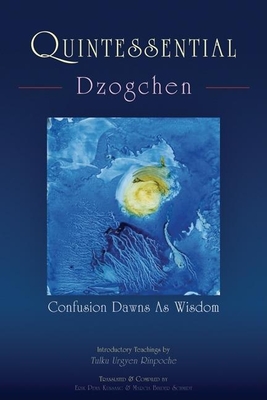 Quintessential Dzogchen: Confusion Dawns as Wisdom (Paperback)
Confusion Dawns as Wisdom
Rangjung Yeshe Publications, 9789627341581, 286pp.
Publication Date: September 1, 2006
Description
This hands-on guidebook adapts the Dzogchen path for the modern student while adhering to traditional principles. The book is based on the direct, accessible style of Tulku Urgyen Rinpoche and offers a thorough grounding in how to study, contemplate, and meditate in this rich spiritual environment. Guided by an introductory teaching by Rinpoche, as well as 42 selected teachings from great Dzogchen masters, readers learn to access the pure, clear awareness that lies hidden under the constant flow of anxious thoughts.
About the Author
Author: Various Dzogchen Masters Translator: Erik Hein Schmidt (also known under his pen name Erik Pema Kunsang) is known as one of the world's most gifted interpreters of Tibetan into English. Traveling to Nepal from his native Denmark at 20, he has studied with or translated for more than 60 Tibetan masters. He is the compiler of a voluminous 3,000-page Tibetan dictionary for spiritual terms (The Rangjung Yeshe Tibetan-English Dictionary of Buddhist Culture), used by other Tibetan translators as an authoritative reference. He has translated 40 books and six published with Shambhala Publications. For two decades, Erik has traveled the world translating for Tibetan lamas; it was his voice tens of thousands heard. In recent years he has led tours to Tibet for Shambhala Publications, conducted workshops in the U.S. and Europe, and made television and radio appearances in the U.S. and Europe. Erik has been featured in Tricycle: The Buddhist Magazine, as well as in publications in many other countries. Erik works with his wife and editor Marcia, publisher of their own imprint, Rangjung Yeshe Publications (www.rangjung.com).
Advertisement