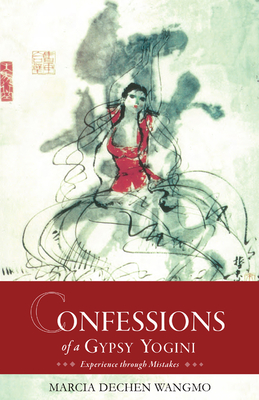 Confessions of a Gypsy Yogini (Paperback)
Rangjung Yeshe Publications, 9789627341642, 176pp.
Publication Date: September 17, 2010
Description

Confessions of a Gypsy Yogini is a tale of experience through mistakes, learning the hard way. It is a guidebook to help find ourselves, offering a fresh approach to traditional teachings in a non-adulterated way, adapted to modern characters. Presented within the Buddhist framework, it will draw the reader closer to seeing things as they truly are, assisting in ascertaining and validating our inherent beauty and combating any feeling of worthlessness while acknowledging anxiety as a part of the path. To overcome negative perceptions, we need to study our confusion and find tools to clear some of it away. Learning how to meditate begins the road to healing and training in various simple formulas directs us to becoming better people. We can meet life's challenges with humor and triumph over them. Included are several opinions of major Tibetan Teachers:
Confessions of a Gypsy Yogini is a vivifying account of the ambrosia-like Buddhist path with brilliant imagery and clear voices of many renowned Masters recorded by the author, who lived at the feet of one of the greatest Tibetan Masters of meditation for 17 years at the epicenter of unfolding events of Dharma that crossed many oceans. May this volume reach many to ignite the light of love and wisdom - the true meaning of Dharma - in the hearts of many.
Tulku Thondup Rinpoche Marcia Dechen Wangmo] has followed many great lamas, some of the best of this century. Her account of her experience as an American amidst this older generation of lamas is quite important for Dharma students from the West. Dzongsar Khyentse Rinpoche
About the Author
Marcia Dechen Wangmo is a translator, editor, and writer whose company, Rangjung Yeshe Publications, has translated and preserved 62 essential Tibetan works for the English-speaking public. She lives in Kathmandu, Nepal, and Leggett, CA.

Tulku Thondub is author of "Boundless Healing; Peaceful Death, Joyful Rebirth;" and "The Healing Power of Mind." He lives in Cambridge, MA.
Praise For Confessions of a Gypsy Yogini…
"Confessions of a Gypsy Yogini is a vivifying account of the ambrosia-like Buddhist path with the brilliant imagery and clear voices of many renowned masters recorded by the author, who herself lived for seventeen years at the feet of one of the greatest Tibetan masters of meditation at the epicenter of unfolding events of Dharma that crossed many oceans. May this volume 
reach many to ignite the light of love and wisdom—the true meaning of Dharma—in their hearts." 
—Tulku Thondup 
Advertisement