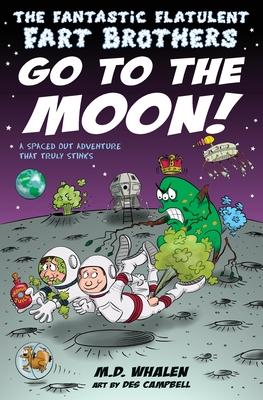 The Fantastic Flatulent Fart Brothers Go to the Moon! (Paperback)
A Spaced Out SciFi Adventure that Truly Stinks; US edition (Fantastic Flatulent Fart Brothers; Us Edition #2)
Top Floor Books, 9789627866312, 182pp.
Publication Date: July 10, 2017
Other Editions of This Title:
Paperback (3/25/2020)
Paperback (7/1/2017)
Paperback (7/10/2017)
Paperback (3/28/2018)
Paperback (3/25/2020)
Paperback (7/1/2017)
* Individual store prices may vary.
Description
Would you trust these guys with a space ship?
Willy and Peter need to get as far as possible from their sister's dumb kindergarten
pageant. But they never expected to be blasting their butts into space

There they make a disgusting discovery that could wipe out the Moon in one gross stink bomb.

Do they have enough gas in their guts to repel an alien invasion from Uranus? Can farts alone rocket them back to earth? And how did their sister's hamster get on board and chew up all the cables?

Blast off to a rip-roaring space adventure that will have you howling out both ends
Please note that this is the US-spelling edition.