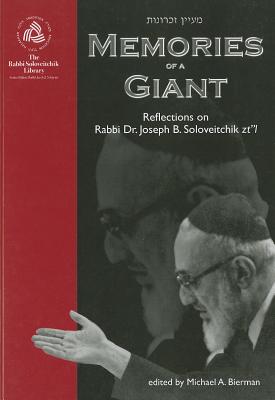 Memories of a Giant (Paperback)
Reflections on Rabbi Dr. Joseph B. Soloveitchik zt"l (The Rabbi Soloveitchik Library Volume 1)
Urim Publications, 9789655241419, 368pp.
Publication Date: September 1, 2013
* Individual store prices may vary.
Description
Memories of a Giant is a work about Rabbi Joseph B. Soloveitchik. In addition to being a man of deep learning and powerful intellect, Rabbi Soloveitchik is presented here as a man of great chesed, profound personal piety and impeccable integrity. The eulogies (hespedim) collected in this volume, delivered by leaders of the Orthodox community, chronicle the impact of not only a brilliant philosopher and master pedagogue, but a caring, thoughtful and awe-inspiring teacher and role model. The volume contains 42 eulogies, about half of which appear here in print for the first time, including the hesped delivered at the Rav's funeral by his brother, Rabbi Ahron Soloveichik, zt l. The book also features an important introduction highlighting the Rav's life and major accomplishments by Michael Bierman, the editor, and an essay by Dr. David Shatz reflecting on the Rav's legacy.
About the Author
Michael A. Bierman is a financial services professional and the former executive director of the Holocaust Museum and Study Center of Rockland County, New York. He holds a degree in Jewish Studies from Brandeis University and received his Master of Social Work degree from Yeshiva University. He lives in the New York City area.
or
Not Currently Available for Direct Purchase