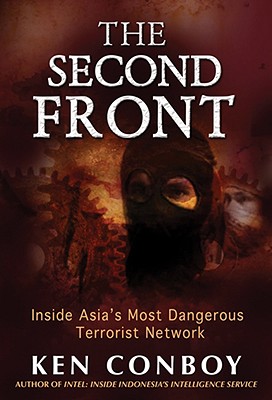 The Second Front (Paperback)
Inside Jemaah Islamiyah, Asia's Most Dangerous Terrorist Network
Equinox Publishing (Indonesia), 9789793780092, 256pp.
Publication Date: October 11, 2005
* Individual store prices may vary.
Description
Decades before al-Qaeda took shape, religious radicals in Southeast Asia were laying the groundwork for a struggle to achieve a backward-looking utopia. This is the story of Jemaah Islamiyah (JI), the secretive organization that spans no less than half a dozen nations and seeks the full implementation of their intolerant take on Islam. In The Second Front: Inside Asia's Most Dangerous Terrorist Network, best-selling author Ken Conboy pieces together the planning and execution of JI's most deadly terrorist acts from exclusive interviews and classified reports. In details never before revealed, it delves into the minds of the group's leaders - from the professorial bomb expert Azhari to the al-Qaeda proxy Hambali. From the shadows of the Hindu Kush to battlefields on the Spice Islands, The Second Front peels back the veil of secrecy and chronicles the successes in bringing down this network, as well as exposes the missed opportunities by regional governments to prevent terrorist acts and sectarian violence that have taken the lives of thousands.
KEN CONBOY, the bestselling author of INTEL: Inside Indonesia's Intelligence Service and KOPASSUS: Inside Indonesia's Special Forces, is country manager for Risk Management Advisory, a private security consultancy in Jakarta. Prior to that, he served as deputy director at the Asian Studies Center, an influential Washington-based think tank, where his duties including writing policy papers for the U.S. Congress and Executive on economic and strategic relations with the nations of South and Southeast Asia. A graduate of Georgetown University's School of Foreign Service and of Johns Hopkins' School of Advanced International Studies, Conboy was also a visiting fellow at Chulalongkorn University in Bangkok and has lived in Indonesia since 1992.