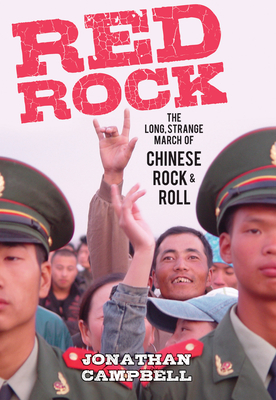 Red Rock: The Long, Strange March of Chinese Rock & Roll (Paperback)
The Long, Strange March of Chinese Rock & Roll
Earnshaw Books, 9789881998248, 263pp.
Publication Date: October 1, 2011
* Individual store prices may vary.
or
Not Currently Available for Direct Purchase
Description
Rebellious, individualistic, and explosive, rock and roll seems incongruent with modern Chinese society. However, as the music has evolved from a Western import into something uniquely Chinese, it has been shaped by the nation's unique system and its relationship with the outside world. As it tracks the music's long journey from the Mao years to present day, this account considers the people and the events that have created Chinese rock's identity. Including interviews with musicians, journalists, and industry experts, this book demonstrates that Chinese rock may be ready to smash its guitars on the global stage.
About the Author
Jonathan Campbell immersed himself in China's rock scene as a drummer, writer, and promoter. He has brought Chinese acts to the world stage, and brought overseas bands to China. His writing has appeared in the "Globe and Mail," "Toronto Star," and the "South China Morning Post." He lives in Toronto, Ontario.
Praise For Red Rock: The Long, Strange March of Chinese Rock & Roll…
"A rollicking account of how a global genre was transformed as it sank down roots in a very special setting." Jeffrey Wasserstrom, author, China in the 21st Century: What Everyone Needs to Know

"In-depth, thoughtful, and well-written. . . . An especially welcome addition to world music collections." Library Journal (October 15, 2011)

"The ancient rhythms of East meets West have rarely been played out so intensely or at such a raucous volume." Jonathan Watts, author, When a Billion Chinese Jump

"No dusty research required, no distant Q&A's necessary, as performer, promoter, writer and pure fan, Campbell was part of the Beijing rock scene when the needle hit the mainline . . . [An] insider's guide to the otherwise impenetrable world of what will become known as the golden period of Chinese rock music . . . pulsing with the energy of the country itself." Steve Barker, DJ, BBC Radio

"Jonathan Campbell's Red Rock has the narrative power of a fine novel, and is at the same time a cogent work of historical analysis . . . the benchmark against which all future accounts of the phenomenon will be measured." Teng Jimeng, author, Music-Made America: Popular Music Since 1960s

"A vivid and faithful description of Chinese rock, Jon Campbell has achieved a significant feat with this book." Hao Fang, former editor Rolling Stone (China)

"Musician, journalist, tour manager, van driver, guanxi master, barstool philosopher, old-school Beijinger Jon Campbell is the insider's insider, and the perfect person to chronicle the rollicking rise of rock in China." Adam Pillsbury, author, Insider's Guide to Beijing

"The West has largely forgotten the power of rock 'n' roll. . . . In China, the music never has seemed more vital or necessary, and as an astute listener, sharp journalist, and excellent writer, Campbell does an outstanding job explaining why." Jim Derogatis, rock critic, co-host of Sound Opinions
Advertisement