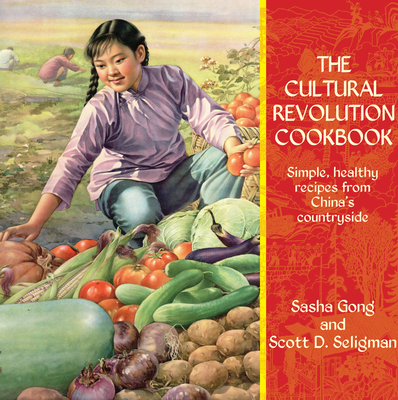 The Cultural Revolution Cookbook: Simple, Healthy Recipes from China's Countryside (Paperback)
Simple, Healthy Recipes from China's Countryside
Earnshaw Books, 9789881998460, 168pp.
Publication Date: December 1, 2011
Description
In 1969, millions of Chinese teenagers were forced from their homes in the city in order to live and work in the countryside as part of China's Cultural Revolution. The work was backbreaking and rations were tight, but Sasha Gong has fond memories of learning to make simple, delicious country cooking. A collection of delectable, healthy, and easy-to-make Chinese recipes from the villages interspersed with a personal narrative and bits of historical context, this cookbook contains authentic Chinese dishes ranging from honey-braised duck to stir-fried rice made from ingredients found at local grocery stores. Chinese history buffs and foodies alike will enjoy discovering the integral connection between Chinese culture and food.
About the Author
Sasha Gong is an accomplished Chinese cook and the author of "Born American: A Chinese Woman's Dream of Liberty." She lives in Cambridge, Massachusetts. Scott D. Seligman is a historian, the author of "Chinese Business Etiquette," and the coauthor of "Now You're Talking Mandarin Chinese." He lives in Washington, DC.
Praise For The Cultural Revolution Cookbook: Simple, Healthy Recipes from China's Countryside…
"The recipes are easy to execute . . . but beyond this, the authors' addition of contemporary history and cultural insights makes for a unique, entertaining and informative resource. A brilliant idea, beautifully implemented." Henry Levine, former U.S. Consul General in Shanghai

"The book's use of propaganda posters from the period links the recipes and the politics in a wonderfully entertaining way." Judith Shapiro, author, Mao's War Against Nature

"The book is by turns touching, funny and bemusing; the food triumphs over all." Christian Murck, President of the American Chamber of Commerce in China

"A scrumptious treat in every way. Peppered with delectable and little-known historical anecdotes, luscious food photography, and colorful, eye-pleasing Chinese socialist realist art, the book is a delight simply to flip through." Ted Plafker, author, Doing Business in China

"Gong and Seligman serve up both good food and history in an easily digestible format." John Frisbie, President of the U.S.-China Business Council

"This is a beautifully written book that you will savor both for its thoughtful reflections on history and its great recipes." John L. Holden, former President of The National Committee on U.S.-China Relations

"The Cultural Revolution Cookbook mixes amusing anecdotes, engaging stories and sumptuous recipes to bring to life revolutionary China's culinary history. The authors' unique expertise in Chinese history, society and culture make this cookbook entertaining, informative and indispensable for any kitchen." Chris Billing, former Bureau Chief for NBC News Beijing

"Seligman and Gong manage to bring forth from the bitter legacy of the Cultural Revolution a delightful book of recipes that serves up not just breakfast, lunch and dinner but also much food for thought." Curtis S. Chin, former U.S. Ambassador to the Asian Development Bank
Advertisement