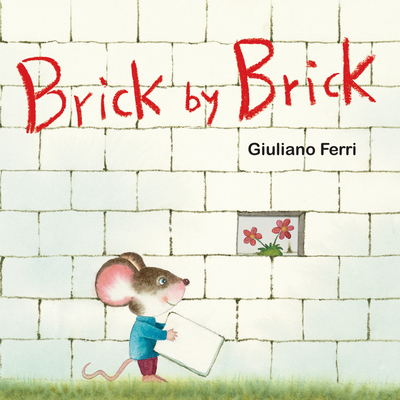 Brick by Brick
Board book

* Individual store prices may vary.
Description
The quintessential first book on peace. 

A little mouse innocently plucks a flower from an old wall when a brick comes loose, and he can see through it for the first time. He and the other animals gradually and resolutely remove more and more bricks, until at last they can see another group of animals. Together they use the bricks that once divided them to construct a bridge to join their islands. This clever and touching wordless board book shows that walls can become bridges when everyone works together. It's a hopeful message that all children should see now.
Praise For Brick by Brick…
"This wonderful board book explores how people can bring down walls and make connections with others if they work together. It is a celebration of collaborations that bring about change, and that offer us hope at the same time." —Marya Jansen-Gruber, lookingglassreview.com
"Ferri's art is . . . sweet, recognizable, and expressive. The images tell a compelling story that will work for toddlers and preschoolers alike. While the tale is proudly didactic, nothing about it feels forced or strident. Touching and timely." —Kirkus Reviews
"Children will enjoy guessing at and narrating the unusual and surprising plot of this clever wordless book . . . The book's powerful message about dismantling walls and building bridges is relevant in children's everyday interactions and as they grow up in the world. Every classroom needs this book." —Reading Chair, NAEYC
"Brick by Brick, a twenty-two-page wordless board book by Giuliano Ferri, is about building bridges and removing barriers . . . . Brick by brick, the animals build a bridge connecting their lands. In Brick by Brick, Giuliano Ferri has crafted a simply important message. Young children will delight in the adorable animal characters. The clever use of space replaces a seemingly endless monochrome wall with a colorful landscape that invites exploration. Beyond the blinding bland whiteness exists the rest of their world." —Christine Van Zandt, goodreadswithronna.com
"'Let's build bridges instead of walls,' says the back-cover copy. Amen to that." —Elissa Gershowitz, hbook.com
"Its simple story unfolds in a way that a baby or toddler can follow with keen interest . . . .The metaphor is so wonderfully clear — and so vitally important, especially in these captious times — you can practically feel the shards of hope lodging in your heart as you read it with a child." —Maria Russo, New York Times
mineditionUS, 9789888341184, 22pp.
Publication Date: June 1, 2016
About the Author
Giuliano Ferri is a graduate of the Urbino Institute of Art where he specialised in animation and the award winning illustrator of children's books. His work has been exhibited at Bologna International Children's Book Fair for more than a decade, and in museums around the world. Mr. Ferri also works with young people with disabilities, using animation and comic theater as therapy. He is illustrator of Luke and the Little Seed, Nino's Magical Night, and The Snowball from minedition.