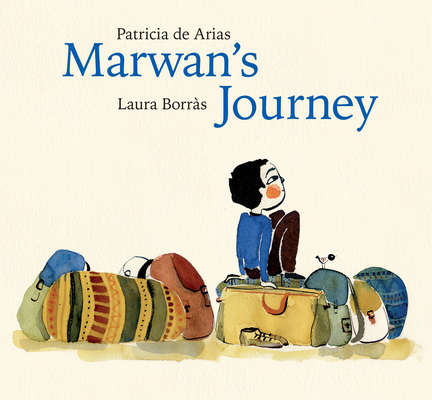 Marwan's Journey (Hardcover)
minedition, 9789888341559, 36pp.
Publication Date: May 1, 2018
* Individual store prices may vary.
Description
One night they came... The darkness grew colder, deeper, darker, and swallowed up everything... Marwan is a young boy on a journey he never intended to take, bound for a place he doesn't know. On his journey, he relies on courage and memories of his faraway homeland to buoy him. With him are hundreds and thousands of other human beings, crossing the deserts and the seas, fleeing war and hunger in search of safety. He must take one step after another—bringing whatever he can carry, holding on to dreams. This is the journey of one boy who longs for a home, and we follow his path, walking hand in hand with him as he looks forward with uncertainty and hopes for a peaceful future. This beautiful, heartfelt story gives a human face to the plight of refugees all over the world. Marwan's journey is everyone's journey.
About the Author
Patricia de Arias was born in Spain in 1973. She began her career as an actress before publishing a number of children's books in Brazil, where she now lives. Her work has received international recognition, including Marwan's Journey, which received a Special Mention at the Bologna Ragazzi Awards in Italy in 2017. Laura Borràs is an internationally acclaimed illustrator who has published numerous books that have been awarded in many countries. She studied illustration in Spain and Italy, and her work has been recognized by the Bologna Children's Book Fair. 
Praise For Marwan's Journey…
STARRED REVIEW: "Borràs' deceivingly simple freestyle illustrations in ink and color wash go hand in hand with the text, neither one shying away from harsh reality yet still child accessible... A beautiful, haunting, and, sadly, important book." —Kirkus Reviews
"Stand[s] out for me (and remind[s] me of how powerful picture books can be for readers of all ages)." —Audrey Fisch, NJCTE.wordpress.com

Selected as one of Kirkus' Best Books for 2018 —Kirkus Reviews
STARRED REVIEW! "Borràs, the recipient of several international illustration awards, creates powerful images in fluid ink lines and textured paint washes that convey with uncommon sensitivity a young refugee's fear, courage, and sense of dislocation." —Publishers Weekly
"Sheds a light on displaced peoples and the struggles they endure to find safety in unfamiliar places." —Mel Schuitt, Let's Talk Picture Books
"With the all too timely Marwan's Journey, Patricia de Arias has done a magician's trick of using one character's narration to suggest a universal refugee experience....Such a book would seem an unlikely repository for uplift, but Marwan's Journey's concluding spread, showing the smiling boy overlooking his neighborhood from the roof of his new house, may elicit the reader's joy." —Nell Beram, Shelf Awareness
"Marwan's Journey originally published back in 2016 in Chile, and it's haunting how universal the story is two years later....Sheds a light on displaced peoples and the struggles they endure to find safety in unfamiliar places." —Mel Schuit, Let's Talk Pictur eBooks
"This lyrical yet accessible addition to a growing body of refugee stories captures the resilience and courage of displaced children seeking safety and sanctuary." —Maria B. Salvadore, School Library Journal
"Marwan, a young boy, is on a journey he didn't choose to take, and he doesn't know where he is going or when he will get there. He joins hundreds of others as they walk and walk, escaping their country where war has swallowed up everything. His bag is heavy to carry, but he is determined to hold on to the hope of a better future, wherever that may be. Marwan's Journey combines brief, powerful text that's perfectly complemented by bold, sensitive illustrations, creating an intimate portrait of the struggles and dreams of refugees everywhere." — Kendal Rautzhan, "Books to Borrow, Books to Buy," nationally syndicated column
"Marwan is on the road, off on a journey to another place, leaving behind all he knows, all he loves. This is a story of sadness, of loss, but it is also a story of deep hope and promise. It's a story children rarely hear. It's a story children need to hear." —Deb Nance, Goodreads.com
"Ink and color wash illustrations by Laura Borràs have a child-like quality to them further supporting young readers to understand the humans stories of the refugee crisis... Marwan's Journey will foster compassionate conversations with young audiences about the experiences of refugees around the world." —Katie Cunningham, theclassroombookshelf.com
Coverage from NPR