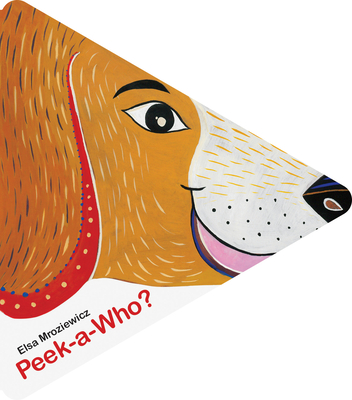 Peek-a-Who?
Board book

* Individual store prices may vary.
Description
Who could be hiding behind the lift-the-flaps in this uniquely-shaped board book? Brimming with colorful art that children will want to pore over, this clever book is full of hidden animals, each making a different sound. Can you figure out who each one is? Lift the triangular flaps to see who peeks out! This beautifully designed book is sure to provide a delightfully interactive experience.
Praise For Peek-a-Who?…
"BOARD BOOKS 2018: WHAT WE'VE GOT IS A VERY STRONG YEAR: Has anyone else noticed that 2018 has been a shockingly strong board book year? Here's a small smattering of some of the true beauties I've run across this year .... Because life is too short not to indulge in triangular board books." —Elizabeth Bird, School Library Journal/A Fuze #8 Production
 

"Just when you thought it couldn't be done, there's a new twist—ahem, fold—on a classic guessing game! ...eye-catching triangular shape ...Caregivers will flip over the innovative flaps, warm animal art, and opportunities to interact with little listeners." —kirkusreviews.com

"Innovative... Mroziewicz packs uncommon exuberance, expressiveness, and design into a little triangular package." —Publishers Weekly

"This triangular board book is engagingly designed to fit in little hands. Each page turn offers a diamond-shaped double-page spread that asks youngsters to guess an animal based on the sound it makes. "Who says meow?" queries a cheerful blue spread. And here's where it gets fun: the answer is found by unfolding the pages, transforming the spread into a whiskered cat's face, with perky triangle ears. The pattern repeats to reveal 11 vividly painted animals by book's end, including a turkey, snake, pig, sheep, and peacock. Sturdily constructed, this clever book will withstand grabbing and multiple reading sessions." —Julia Smith, Booklist

"Books don't usually come in triangular form, but three sides and three angles make perfect sense for Peek-A-Who?, a board book for babies and toddlers that ranks among the year's best." —Meghan Cox Gurdon, Wall Street Journal

"Fun to share with a lap sitting baby and sturdy enough for toddlers to flip through on their own. A delightful novelty book." —Gold Award, http://www.toyportfolio.com/gold-infants

"Kids will love it!" —Ami Segna, Amomssparetime.blogspot.com

Cybil's Award Board Book Finalist —http://www.cybils.com/2018-fiction-picture-books-and-board-book-finalists

Selected as one of the Best New Board Books of 2018 —https://www.thechildrensbookreview.com/weblog/2019/01/the-best-new-board-books-of-2018.html

 

"Mroziewicz's Peek-a-Who? asks young readers to identify a series of animals by their characteristic sounds prior to revealing each animal's identity by opening triangular board book flaps.... effectively designed board books offer both an innovative and supportive reading experience, thanks to their repetitive question/answer structures and thoughtful visual clues." —Review, http://guessinggeisel.blogspot.com/2018/12/2018-international-beginning-reader.html

"Best Toys for Babies and Toddlers. [This] will spark your little one's imagination and stand the test of time." —Zero to Three
mineditionUS, 9789888341573, 22pp.
Publication Date: September 1, 2018
About the Author
Elsa Mroziewicz is a French illustrator who studied in Strasbourg at the Academy of Fine Arts École Supérieur des Arts Décoratifs. In addition to illustrating, she also develops pop-up books, paper art, comics, and film. Her work is inspired by circuses, theater, movies, and music.