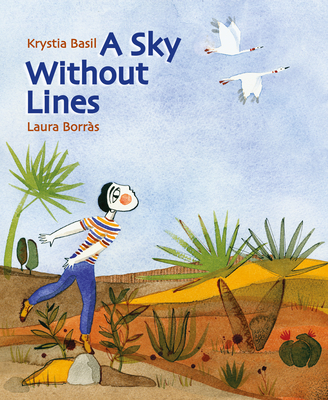 A Sky Without Lines
Hardcover

* Individual store prices may vary.
Description

An Outstanding International Trade Book, USBBY * A National Council of Social Studies Notable Book * A Best Multicultural Children's Book of 2019, Center for the Study of Multicultural Children's Literature 

A moving and timely story of a young boy separated from his beloved brother and father by a border.

Arturo loves to look at maps and the lines where different countries meet––as if greeting each other with a big hug. But his mother tells him these lines have a different purpose––to keep people from moving freely across the land. Arturo and his mother are separated from his father and his brother Antonio by one of these lines. Will he ever see his brother again? But the sky has no lines, so Arturo dreams of flying with Antonio through the open sky to the moon, free of barriers. Artful, moving watercolor illustrations express a young boy's sorrow at separation and his joyful dreams of a world without lines.
Praise For A Sky Without Lines…
"Two brothers live separated by a line on a map. Arturo fantasizes about overcoming the obstacles the line represents. Perhaps he can dig under it, swim through it, or build a bridge over it—anything to be with his older brother, Antonio, again, just like the cranes freely crossing the skies. He dreams of meeting his brother on the moon, where they can play fútbol with their faces gleaming from 'the sticky sweetness of warm churros.' Basil's story of borders implies a happy ending for a truncated family stuck in two different countries. But Barcelona-based artist Borràs' (Marwan's Journey, 2018) earth-toned watercolor landscapes feature the political reality of the United States–Mexico fence—the 'line' running through the lives of Arturo and his family. The stylized images resemble marionettes with pupil-less, masklike faces; expressions are limited or nonexistent. Many of the double-page spreads are populated with fox-ish, ring-tailed creatures. Since neither foxes nor coyotes have ringed tails, it's difficult to decipher what they are. If coyotes, they may serve to call attention to the ubiquitous human traffickers known by the same name. The cranes' unfettered flight from one country to the next evokes Arturo's wish that where two lands meet there be no lines; after all, 'he'd looked hard, and he'd seen no lines in the sky, none at all.' A provocative take on a world without borders." — Kirkus Reviews
"Arturo dreams of reuniting with his brother Antonio who lives with their father on one side of a line, while he and his mother live on the other. Arturo loves looking at maps and likes looking at the lines that show where the different countries meet. But his mother tells him that the lines are there to stop people from moving freely. Arturo misses the older brother who taught him to ride a bike and kick a soccer ball and wonders how they can be together again. Could he perhaps squeeze through a gap in the line; build a tunnel and go under it; or build a bridge and go over the line? Borràs's stylized watercolors in warm hues of ochre, brown, and red capture the desert environment where the brothers' adobe house sits. The southern border of the United States is depicted with an impenetrable fence keeping the brothers apart. While a host of coyotelike creatures appear in most illustrations, there are also geese overhead, perhaps foreshadowing Arturo's dream of flying high up into space where he will reunite with Antonio. VERDICT As children experience more and more forced migration and forbidding borders in their worlds, this book serves a useful look at the human side of geopolitics and an effective discussion opener." —Lucia Acosta, 
School Library Journal 
"A tender story of longing." —Juile Danielson, 
Horn Book
"A tender story of longing." —
The Horn Book
mineditionUS, 9789888341894, 32pp.
Publication Date: October 1, 2019
About the Author
Krystia Basil is Co-Founder & Executive Producer at Poplewaca Productions. She has worked with PBS, BBC, Animal Planet, The History Channel, and other media organizations to create compelling and relevant media content. This is her first book.


Laura Borràs is the illustrator of minedition's Marwan's Journey. She is an internationally acclaimed illustrator who has published numerous books that have won awards in many countries. She studied illustration in Spain and Italy, and her work has been recognized by the Bologna Children's Book Fair.