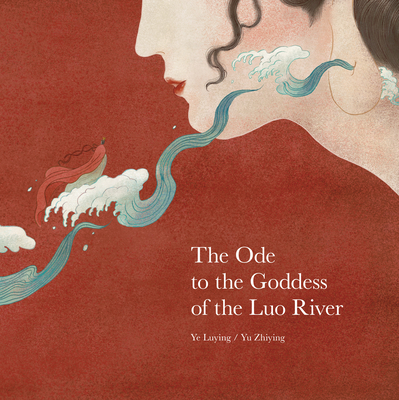 Ode to the Goddess of the Luo River
Hardcover

* Individual store prices may vary.
Description
A 2021 Outstanding International Trade Book! The Ode to the Goddess of the Luo River is an ancient Chinese poem created by Cao Zhi, a writer living in the state of Wei during the Three Kingdoms period (c. 220-280 CE). In his tale, Cao Zhi is returning from the capital to his own land when he stops at the Luo River for a rest, where he sees a vision of the goddess so powerful that he instantly falls in love with her. Cao sees a nymph of peerless beauty "as elegant as a startled swan and supple as a swimming dragon". Though he's swept away by her ethereal beauty, it's a love that isn't meant to be. With its high production values and amazingly-detailed-multi-page foldout spreads, this is a special book that will entice art lovers of all ages.
Praise For Ode to the Goddess of the Luo River…
A 2021 Outstanding International Trade Book 

"In this retelling of an ancient Chinese poem, a writer imagines the doomed love between the earthly and heavenly…Ye's illustrations, however, are lush in detail and lovely in strangeness….multipage gatefolds stunningly capture both the movement in the illustrations and the scale of the tale. Lavish illustrations elevate this adaptation of a classic." — Kirkus Reviews

"The illustration and format …distinguish this large volume, enhancing the drama and scope of the story. Several stunning illustrations are presented on extended gatefolds that open up to almost mural size. They evoke the river….sure to intrigue readers and may encourage further examination of traditional Chinese art and literature." — School Library Journal
mineditionUS, 9789888341948, 78pp.
Publication Date: January 1, 2020
About the Author
Ye Luying, a graduate of The China Academy of Fine Arts, combines traditional Chinese painting styles with a contemporary graphic-novel sensibility to display the depth of traditional Chinese tales. Her rendition of this classic tale received much acclaim after its publication in China, winning the 13th Golden Dragon Award in 2016 for best illustration, as well as numerous other awards.
Yu Zhiying is a professor, writer, and translator of children's literature. Her modern adaptation of this classic poem preserves the original's florid writing style and romantic motifs, which have been renowned for more than a thousand years.