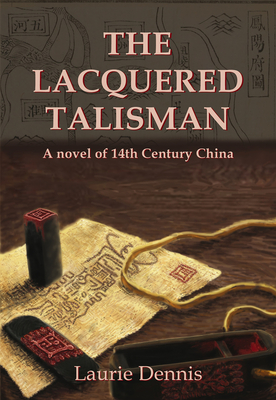 The Lacquered Talisman
A novel of fourteenth century China
Paperback

* Individual store prices may vary.
Description
A sweeping coming-of-age epic, The Lacquered Talisman launches the story of one of the most influential figures in Chinese history. He is the son of a bean curd seller and he will found the Ming Dynasty, which ruled China from 1368 to 1644.
Known as "Fortune" as a boy, Zhu Yuanzhang is part of a large and doting family who shepherd him through hardship until drought and plague ravage the countryside. Left with nothing but a lacquered necklace from his grandfather, Fortune is deposited in the village temple and is soon wandering the countryside as a begging monk. He encounters pockets of resistance to the ruling Mongol dynasty, studies the stars, and tangles with Daoists as he seeks to understand his destiny. Signs and dreams convince him that he has a special fate. Is he to be the abbot of a monastery? A general? What matters most is that he proves himself to be a filial son.
 
Praise for The Lacquered Talisman:

"Historical fiction lovers will delight in The Lacquered Talisman, which gives us a vividly-imagined, brilliantly-told story of a real-life emperor's humble origins. The first part of a biography of the first Ming Emperor, Zhu Yuanzhang, it is a vivid and engaging portrayal of a young man determined to honor the love and sacrifices of his tragedy-stricken family, set against the beautifully-drawn backdrop of 14th century China." —IndieReader

"This epic coming of age story is about Fortune, the founder of the Ming Dynasty, as a boy until he reached the age of twenty-three. The author writes in a literary style, and although it is fiction, it reads similar to an account told by a first-person narrator. The style is evocative of the ancient Classic style and suits this lovely novel exactly." —Discovering Diamonds
Earnshaw Books, 9789888552467, 300pp.
Publication Date: February 1, 2020
About the Author
Laurie Dennis grew up in Illinois and Minnesota and has been studying Chinese since she was a high school freshman in Minneapolis. She has worked as a journalist in the U.S. and in Beijing, China, and she has traveled widely across China, including a research trip to Fengyang, Anhui Province, the birthplace of the founder of the Ming Dynasty. She currently resides in Madison, Wisconsin, where she lives with her husband and works on China programs for her alma mater, the University of Wisconsin-Madison. This is her first novel.