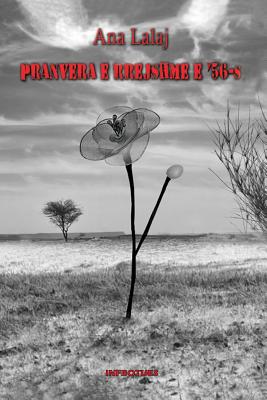 Pranvera E Rrejshme E '56-S (Paperback)
Infbotues, 9789928173270, 324pp.
Publication Date: January 12, 2016
* Individual store prices may vary.
Description
Nj v shtrim studimor p r Konferenc n e Partis 's Pun's t Shqip ris t Qytetit t Tiran's, prill 1956 dhe p r protagonist t e saj. N lib r sillen gjithashtu dhe dokumente interesante p r zhvillimet politike t atij viti. Ishte koha kur n Bashkimin Sovjetik dhe vendet e tjera socialiste t Evrop's Qendrore dhe Lindore po shkrinin "akujt" e Luft's s Ftoht me Per ndimin. Menj her pas Kongresit XX-t t PK t Bashkimit Sovjetik, n Tiran , disa prej intelektual ve t njohur komunist guxuan t p rdornin tribun n e partis 's tyre p r t k rkuar nj sistem m njer zor, nj "socializ m me fytyr njeriu." N ndryshim nga vendet e tjera t Bllokut socialist ku procesi i destalinizimit arriti t largoj disa tipare represive t sistemit, n Shqip ri ngrica erdhi edhe m e akullt. Instrumentet e dhun's p r t ruajtur t paprekur pushtetin politik ekzistues u forcuan. Pranvera e '56-s ishte e rrejshme dhe shpresat e kritik ve t konferenc's rezultuan naive. Shqip ria mbeti staliniste dhe plag t e shoq ris 's 's mur shqiptare vazhdojn t ndihen edhe sot. Libri ka per recensent publicistin e njohur Fatos Lubonja.
II
Prof. dr. Ana LALAJ sht studiuese n Institutin e Historis pran Qendr's s Studimeve Albanologjike, pedagoge e jashtme n Universitetin e Tiran's dhe drejtore e Qendr's s Studimeve Shqiptare p r Luft n e Ftoht , Ka kryer studimet e larta n deg n histori-gjeografi t UT (1975) dhe ka qen drejtore e Institutit t Historis pran Akademis 's Shkencave t Shqip ris (1997-2005). sht autore e dy monografive p r Kosov n gjat Luft's s Dyt Bot rore dhe pas saj, si dhe dy librave me studime "Dosjet e Luft s" dhe "Pranvera e rrejshme e '56-s." Gjithashtu Lalaj sht autore dhe bashkautore e nj varg artikujsh e projektesh shkencor t botuar brenda dhe jasht vendit, n SHBA, n Rumani, n Bullgari, n Gjermani etj. Ka marr pjes n konferenca shkencore komb tare dhe nd rkomb tare p r Luft n e Ftoht dhe ka prezantuar kumtesa e referate mbi historin e Shqip ris n Luft n e Ftoht . Lalaj ka kryer studime intensive ve an risht p r marr dh niet shqiptare-jugosllave, shqiptare sovjetike dhe shqiptare-kineze, si dhe p r impaktin q pati politika e brendshme shqiptare gjat Luft's s Ftoht n jet n e p rditshme t popullsis . Gjithashtu Lalaj ka kryer specializime dhe hulumtime n Librarin e Kongresit me burs t qeveris amerikane "Fulbright"; n Kolegjin Saint Anthony's n Oxford me burs t K shillit t Evrop's; si dhe n universitete t tjera, biblioteka dhe arkiva n SHBA dhe Evrop .
III
Prof. Dr. Ana Lalaj, is a researcher at the Center for Albanian Studies, a lecturer at the Tirana University in Tirana, Albania and the director of the Albanian Cold War Studies Center (ACWSC). Prior to that, she served as the director of the Institute of History in Tirana for 8 years (1997- 2005). Lalaj has written two monographs on Kosovo during WWII and following WWII, two other books "Dosjet e Luft s" (The Files of the War) and "Pranvera e rrejshme e '56-s" (The False Spring of '56-th). Lalaj is outhor of several articles in the scientific magazines in Albania and abroad. Her current research focuses on Albania in the Cold War and more specifically on Albanian -Yugoslav relations. Lalaj has participated in a number of international scholarly conferences where she has presented papers on Albanian -Soviet and Albanian -Chinese relations. In edition, Lalaj has done extensive research on the impact that Albanian domestic policy during the Cold War had on the day -to-day life of the population. She is a contributor to the Cold War International History Project Bulletin in Woodrow Wilson Center, Washington D.C. Lalaj graduated from the Tirana University and has received a number of distinguished scholarships, including a Fulbright fellowshi.