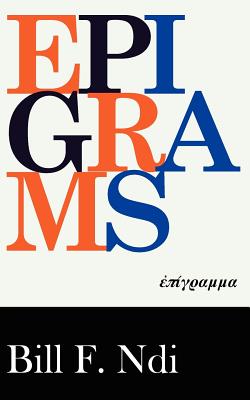 Epigrams (Paperback)
Langaa RPCID, 9789956727971, 106pp.
Publication Date: March 25, 2012
* Individual store prices may vary.
Description
Bill F. Ndi, poet, playwright, storyteller, literary critic, translator, historian of ideas and mentalities and academic is household name in Anglophone Cameroonian poetry. He has held teaching positions in several universities in Australia, France, and elsewhere. He now teaches at Tuskegee University, Tuskegee Alabama, USA. He has authored numerous (poetry, drama, scholarly works on early Quakerism as well as translations of early Quaker writings) publications in both the English and French languages. "Epigrams is a compendium of sagacious aphorisms in which Bill F. Ndi has dared to stand on the shoulders of the Muses to see in his own mind's eye; to decipher the indicible. The poet's locus is the all-too-human foible but the bull's eye is the optical illusion engendered by the misreading of life's chessboard. He chides, lambastes and laughs under his sleeve, all in an effort to return to sanity a world gone berserk." Peter Wuteh Vakunta, Department of Defense Language Institute, Presidio of Monterey, USA.
or
Not Currently Available for Direct Purchase