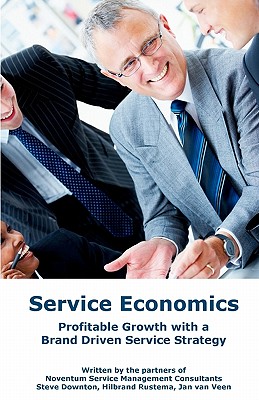 Service Economics
Profitable growth with a brand driven service strategy
Paperback

* Individual store prices may vary.
Description
Service economics is an umbrella phrase, coined by the authors, to convert the wide-ranging intangible aspects of service (including but not limited to processes, people, customers, strategy, brand values, competencies) into something tangible (such as financial information) that can be applied by the broader business community. With this information insight will be gained into how service is delivered, to promote a highly valuable impact within and alongside businesses today. For a long time it has proved difficult for service to be the source of excellent performance and profitability. Service Economics focuses on the value that service businesses represents when effectively dealing with the growing complexity of demands and expectations of customers and suppliers, to achieve an effective and profitable partnership. Service Economics is now becoming a hot topic in the C suite boardroom and is fast creating a new awakening into the importance of the Service business.
Noventum Service Management Consultants Ltd, 9789963983803, 130pp.
Publication Date: August 1, 2010
About the Author
Steve Downton is renowned for innovative thinking applied to the service industry. He has worked with leading-edge service companies for the past twenty five years and has benchmarked the industry since the early nineties. He has produced a number of thought-leadership articles and white papers, and has worked with many of the top service companies in the world in generating and applying Best Practices. Hilbrand Rustema has worked in several countries in North America and Europe in the role of Service Transformation specialist. During the last twenty years Hilbrand has advised leading service companies in the area of Service Strategy, Benchmarking, Process Optimisation, Change Management and Information Technology. Jan van Veen as a Service Transformation specialist has been assisting clients with Service Strategy development, Benchmarking, Process Optimisation, Change Management and Information Technology for the last ten years.