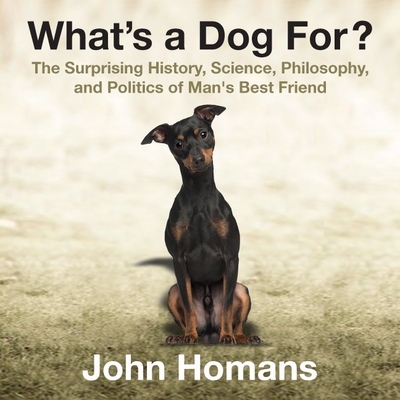 What's a Dog For?
The Surprising History, Science, Philosophy, and Politics of Man's Best Friend
Compact Disc

* Individual store prices may vary.
Other Editions of This Title:
Digital Audiobook (11/12/2012)
MP3 CD (11/13/2012)
Paperback (10/29/2013)
Hardcover (11/8/2012)
Description
John Homans adopted his dog, Stella, from a shelter for all the usual reasons: fond memories of dogs from his past, a companion for his son, an excuse for long walks around the neighborhood. Soon enough, she is happily ensconced in the daily workings of his family. And not only that: Stella is treated like a family member--in ways that dogs of his youth were not. Spending humanlike sums on vet bills, questioning her diet and exercise regimens, contemplating her happiness--how had this all come to pass, when the dogs from Homans's childhood seemed quite content living mostly out in the yard? In What's a Dog For?, Homans explores the dog's complex and prominent place in our world and how it came to be. Evolving from wild animals to working animals to nearly human members of our social fabric, dogs are now the subject of serious scientific studies concerning pet ownership, evolutionary theory, and even cognitive science. From new insights into what makes dogs so appealing to humans to the health benefits associated with owning a dog, Homans investigates why the human-canine relationship has evolved so rapidly--how dogs moved into our families, our homes, and sometimes even our beds in the span of a generation, becoming a $53 billion industry in the United States in the process. As dogs take their place as coddled family members and their numbers balloon to more than seventy-seven million in the United States alone, it's no surprise that canine culture at large is also undergoing a massive transformation. They are now subject to many of the same questions of rights and ethics as people, and the politics of dogs are more tumultuous and public than ever-- with fierce moral battles raging over kill shelters, puppy mills, and breed standards. Incorporating interviews and research from scientists, activists, breeders, and trainers, What's a Dog For? investigates how dogs have reached this exalted status and why they hold such fascination for us. With one paw in the animal world and one paw in the human world, it turns out they have much to teach us about love, death, and morality--and ultimately, in their closeness and difference, about what it means to be human.
Gildan Media Corporation, 9798200633982
Publication Date: November 13, 2012
or
Not Currently Available for Direct Purchase