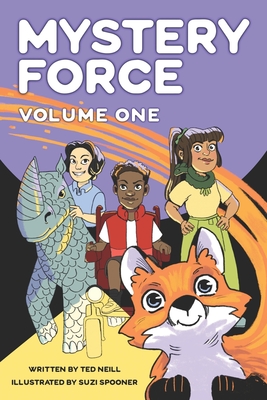 Mystery Force Volume 1
Books 1-3 of the Mystery Force Series
Paperback

* Individual store prices may vary.
Description
Meet Rasheed, Jonathan, and Josephine and their magical animal helpers: Maximilian the fire fox, Dan the karkadan, and Quetzalcoatl the feathered serpent (but you can call her Quetzy). They're three unique kids who love mysteries (actually they hate mysteries, but they love solving them). Join them in their adventures where they take on evil doers and monsters while shattering the misconceptions and expectations of people who make the mistake of underestimating them.
This volume contains the first three books of the Mystery Force series: Book 1: Mystery Force Assemble In this first adventure the kids cross the country and ocean in order to uncover who is behind the sweatshops exploiting the forced labor of magical creatures. Hi-jinks, hilarity, and heroism ensue Book 2: The Case of the Stolen Horn. On their second adventure the kids try to save their geometry teacher Ms. Weymont (she's a Pegasus) who has been framed for stealing the drama teacher's horn (he's a unicorn). Danger, derring-do, and dynamic detective work follow Book 3: Blazing Blizzards. The kids' third case leads them into the mountains to get to the bottom of an unseasonable blizzard that threatens to bury their town. Ghosts and ghouls lurking in labyrinths and laboratories will try to terrify them into retreating. They will meet old adversaries and discover new friends. As usual, incredible combatting of crime will commence Illustrated by the incomprable Suzi Spooner.
Independently Published, 9798486908149, 330pp.
Publication Date: September 30, 2021