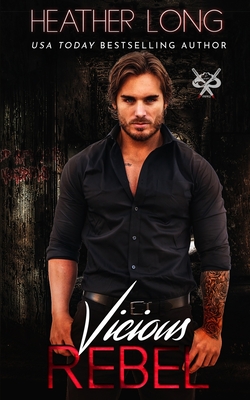 Vicious Rebel
Paperback

* Individual store prices may vary.
Description
My name is Emersyn Sharpe. Until a few months ago, I was the lead performer for a traveling show finishing up a contract. I had been beaten, but never broken.
Then they took me.
I didn't belong in their world.
Still, they took me and I didn't know why. They promised to protect me and to keep me safe, but they had to know I'd run. They had to know.
Now my world and theirs might be on a collision course and as much as I didn't belong in their world, I didn't want mine to rain down on them.
Not on Jasper, the dictatorial jerk who kissed like he wanted to own me. Not on Rome, the tortured artist who protected me. Not on Kestrel, the liar with the soulful eyes and dedicated heart. Not on Liam, the bastard who loved his brother. Not on Vaughn, the beautiful man with the beautiful voice who made me want everything I shouldn't. Not on Doc, the gifted physician who'd kept his promises to me.
I ran.
But I didn't get far and now...now I don't know what will happen next.
VICIOUS REBEL is a full length mature college/new adult romance with enemies-to-lovers/love-hate themes. The dark romance aspects of this tale darken with this book. Please be aware some situations may be uncomfortable for readers. This is a reverse harem novel, meaning the main character has more than one love interest. This is book two in the series.
Independently Published, 9798521114078, 438pp.
Publication Date: June 15, 2021