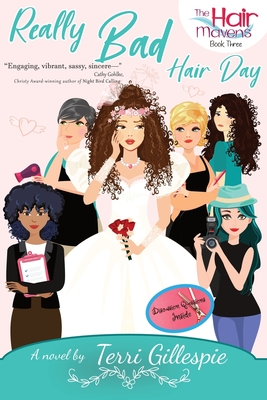 Really Bad Hair Day
Paperback

* Individual store prices may vary.
Description
The Mavens bring their sense of style of really good hair out into the community and to the homeless. But as much as the ladies want to help others, they have found they need help, too.

Shira Shira's desire for her dream wedding gown may turn her into a Bridezilla or bring up the past that will heal old wounds.
Katya Katya must decide between her former love, the wealthy, successful Yuri or Tom, the hero cop who has only his heart to give. Her choice could have deadly results.
Beulah Two men? Who knew? Beulah must choose between Shaun, the handsome hero, or the quiet Sam, whom she's known for years.
Harriet Harriet never thought she would marry Bob, the love of her life so late in life. Will she discover that God holds even more, or will she settle for what she thinks she deserves.
Linda Miss Linda is struggling to keep her professional walls intact, but when she receives life-altering news from her doctor, the wall of Jericho must tumble.
Daye Young Daye sees the world through a different lens. That view will change all the mavens' lives-will it change hers?

From helping the local community to homeless shelters to a missing maven to lifechanging events to finding a wedding dress, the mavens will either strengthen their bond or split forever . . .

Independently Published, 9798522420901, 312pp.
Publication Date: June 17, 2021