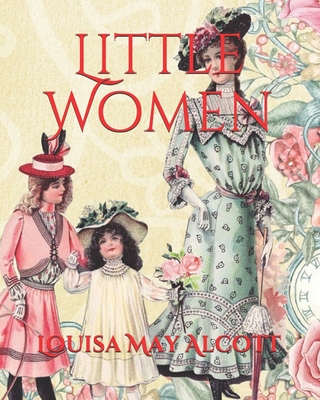 Little Women
Paperback

* Individual store prices may vary.
Other Editions of This Title:
Paperback (12/16/2016)
Paperback (10/13/2016)
Paperback (5/16/2015)
Paperback (9/18/2018)
Paperback (11/3/2016)
Paperback (10/14/2020)
Paperback (7/29/2017)
Paperback (2/17/2017)
Paperback (12/9/2014)
Paperback (12/10/2013)
Paperback (6/12/2018)
Paperback (1/16/2018)
Paperback (8/6/2017)
Paperback (4/23/2020)
Paperback (1/25/2021)
Paperback (2/14/2017)
Paperback (5/3/2020)
Paperback (5/8/2015)
Description
"I don't pretend to be wise, but I am observing, and I see a great deal more than you'd imagine. I'm interested in other people's experiences and inconsistencies, and, though I can't explain, I remember and use them for my benefit."
― Louisa Alcott, Little Women
Little Women- a novel by American author Louisa May Alcott, is a story about the lives of the four March sisters and their journey from childhood to womanhood. Meg, Jo, Beth, and Amy lived with their mother, Marmee in a small house while their father worked far from home as a chaplain in the American Civil War.
Every one of the siblings is unique. Meg and Jo took the role of working to support the family: Meg tutors a family of four children nearby; Jo helps their aged great-aunt March, a wealthy widow with a mansion, Plumfield. Beth, too timid for school, is content with staying at home and helping with housework; and Amy is attending school.
As the siblings mature, they are faced with their own personal problems and moral challenges. Meg, the oldest, must learn how not to be vain in order to follow her heart. Jo needs to learn to be more feminine while pursuing her dream of becoming a great writer. Beth must conquer her shyness, while the youngest, Amy, has to learn to be less prideful. The girls are guided in their personal growth by their mother and by their religious faith.
In the novel, the four sisters become acquainted with their wealthy neighbor, Theodore Laurence, known as "Laurie.". .Their tight bonds were also changed when Meg fell in love with John Brooke, Laurie's tutor.
Will the sisters turn out to be the dignified women they wanted to be?
Do they achieve their dreams respectively?
Read now and join the siblings in their journey to maturity. The story is about womanhood but we re sure even men would learn a lot from these little women.
Independently Published, 9798550761205, 396pp.
Publication Date: October 21, 2020