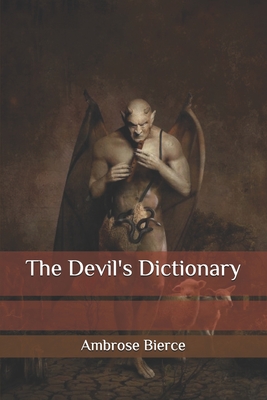 The Devil's Dictionary
Paperback

* Individual store prices may vary.
Other Editions of This Title:
Paperback (1/1/1999)
Paperback (10/3/2005)
Paperback (8/2/2020)
Paperback (8/2/2020)
Paperback (11/6/2011)
Paperback (10/27/2013)
Paperback (4/29/2020)
Paperback (9/25/2019)
Paperback (9/26/2020)
Paperback (9/9/2014)
Paperback (3/16/2019)
Paperback (11/23/2016)
Paperback (8/6/2007)
Paperback (1/10/2005)
Description
ABASEMENT, n. A decent and customary mental attitude in the presence of wealth orpower. Peculiarly appropriate in an employee when addressing an employer.ABATIS, n. Rubbish in front of a fort, to prevent the rubbish outside from molesting therubbish inside.ABDICATION, n. An act whereby a sovereign attests his sense of the high temperature ofthe throne.Poor Isabella's Dead, whose abdicationSet all tongues wagging in the Spanish nation.For that performance 'twere unfair to scold her: She wisely left a throne too hot to hold her.To History she'll be no royal riddle-Merely a plain parched pea that jumped the griddle.G.J.ABDOMEN, n. The temple of the god Stomach, in whose worship, with sacrificial rights, all true men engage. From women this ancient faith commands but a stammering assent.They sometimes minister at the altar in a half-hearted and ineffective way, but truereverence for the one deity that men really adore they know not. If woman had a free handin the world's marketing the race would become graminivorous.ABILITY, n. The natural equipment to accomplish some small part of the meanerambitions distinguishing able men from dead ones. In the last analysis ability is commonlyfound to consist mainly in a high degree of solemnity. Perhaps, however, this impressivequality is rightly appraised; it is no easy task to be solemn.ABNORMAL, adj. Not conforming to standard. In matters of thought and conduct, to beindependent is to be abnormal, to be abnormal is to be detested. Wherefore thelexicographer adviseth a striving toward the straiter sic] resemblance of the Average Manthan he hath to himself. Whoso attaineth thereto shall have peace, the prospect of deathand the hope of Hell.ABORIGINIES, n. Persons of little worth found cumbering the soil of a newly discoveredcountry. They soon cease to cumber; they fertilize.ABRACADABR.
Independently Published, 9798556895140, 168pp.
Publication Date: November 1, 2020