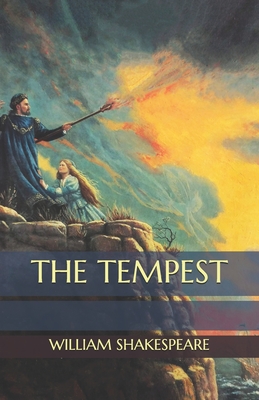 The Tempest
Paperback

* Individual store prices may vary.
Other Editions of This Title:
Paperback (8/11/2020)
Paperback (12/4/2012)
Paperback (12/4/2012)
Paperback (12/4/2012)
Paperback (1/13/2021)
Paperback (12/4/2012)
Paperback (4/29/2020)
Paperback (10/2/2018)
Paperback (4/12/2019)
Paperback (5/26/2016)
Paperback (8/29/2017)
Paperback (7/20/2018)
Paperback (6/23/2019)
Paperback (2/19/2014)
Paperback (4/1/2020)
Paperback (11/18/2020)
Paperback (2/28/2020)
Description
A ship is caught in a powerful storm, there is terror and confusion on board, and the vessel is shipwrecked. But the storm is a magical creation carried out by the spirit Ariel, and caused by the magic of Prospero, who was the Duke of Milan, before his dukedom was usurped and taken from him by his brother Antonio (aided by Alonso, the King of Naples). That was twelve years ago, when he and his young daughter, Miranda, were set adrift on the sea, and eventually stranded on an island. Among those on board the shipwreck are Antonio and Alonso. Also on the ship are Alonso's brother (Sebastian), son (Ferdinand), and "trusted counsellor", Gonzalo. Prospero plots to reverse what was done to him twelve years ago, and regain his office. Using magic he separates the shipwreck survivors into groups on the island: Ferdinand, who is found by Prospero and Miranda. It is part of Prospero's plan to encourage a romantic relationship between Ferdinand and Miranda; and they do fall in love.Trinculo, the king's jester, and Stephano, the king's drunken butler; who are found by Caliban, a monstrous figure who had been living on the island before Prospero arrived, and whom Prospero adopted, raised and enslaved. These three will raise an unsuccessful coup against Prospero, acting as the play's 'comic relief' by doing so.Alonso, Sebastian, Antonio, Gonzalo, and two attendant lords (Adrian and Francisco). Antonio and Sebastian conspire to kill Alonso and Gonzalo so Sebastian can become King; at Prospero's command Ariel thwarts this conspiracy. Later in the play, Ariel, in the guise of a Harpy, confronts the three nobles (Antonio, Alonso and Sebastian), causing them to flee in guilt for their crimes against Prospero and each other.The ship's captain and boatswain who, along with the other sailors, are asleep until the final act.
Independently Published, 9798560157081, 164pp.
Publication Date: November 8, 2020