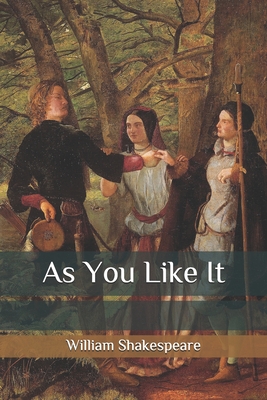 As You Like It
Paperback

* Individual store prices may vary.
Other Editions of This Title:
Paperback (6/16/2020)
Paperback (11/22/2018)
Paperback (12/18/2016)
Paperback (12/4/2020)
Paperback (11/8/2020)
Paperback (12/30/2020)
Paperback (3/1/2020)
Paperback (2/16/2021)
Paperback (11/30/2020)
Paperback (8/8/2020)
Paperback (6/8/2019)
Paperback (1/26/2014)
Paperback (12/17/2020)
Paperback (7/27/2018)
Paperback (5/25/2016)
Description
CELIAI pray thee, Rosalind, sweet my coz, be merry.ROSALINDDear Celia, I show more mirth than I am mistress of; and would you yet I were merrier?Unless you could teach me to forget a banished father, you must not learn me how toremember any extraordinary pleasure.CELIAHerein I see thou lov'st me not with the full weight that I love thee; if my uncle, thybanished father, had banished thy uncle, the duke my father, so thou hadst been still withme, I could have taught my love to take thy father for mine; so wouldst thou, if the truth ofthy love to me were so righteously tempered as mine is to thee.ROSALINDWell, I will forget the condition of my estate, to rejoice in yours.CELIAYou know my father hath no child but I, nor none is like to have; and, truly, when he diesthou shalt be his heir: for what he hath taken away from thy father perforce, I will renderthee again in affection: by mine honour, I will; and when I break that oath, let me turnmonster; therefore, my sweet Rose, my dear Rose, be merry.ROSALINDFrom henceforth I will, coz, and devise sports: let me see; what think you of falling in love?CELIAMarry, I pr'ythee, do, to make sport withal: but love no man in good earnest, nor no furtherin sport neither than with safety of a pure blush thou mayst in honour come off again.ROSALINDWhat shall be our sport, then?
Independently Published, 9798561521171, 110pp.
Publication Date: November 9, 2020