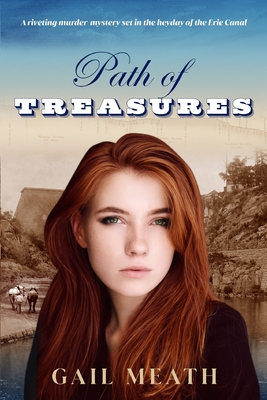 Path of Treasures
Paperback

* Individual store prices may vary.
Description
A hired killer is no match for an innocent, young mule driver on the Erie Canal. Bounty hunter Wolfe McKay has another job to do. An easy job. Kill the crew on a small canal boat, then collect his bounty from the wealthy railroad tycoon who hired him. Easy, hell. The misfit crew on Streeter's Ark are nothing at all what he expected, especially their mule driver. Sara grew up on the Erie Canal with Jeremiah Streeter and Sam, the Ark's bully. At 19, she's playful and mischievous and knows nothing about the wily ways of the world...or men. Not until their helmsman is murdered and they hire Wolfe as a replacement.As Streeter's Ark travels from Albany to Buffalo, the crew discovers there is more than one hired gunman trying to kill Sara and Wolfe is the only one who knows why. Will he have a change of heart? A riveting murder-mystery with an historical account of life on the Erie Canal in 1852, the friction between the canallers and railroads, and the coming of age of a beautiful mule driver.
Independently Published, 9798566029191, 194pp.
Publication Date: November 16, 2020