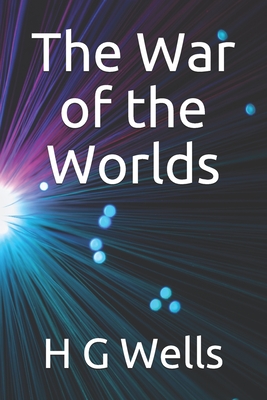 The War of the Worlds
Paperback

* Individual store prices may vary.
Other Editions of This Title:
Paperback (9/1/2004)
Paperback (1/22/2015)
Paperback (4/13/2010)
Paperback (1/3/2013)
Paperback (2/19/2013)
Paperback (10/10/2013)
Paperback (5/2/2015)
Paperback (3/9/2009)
Paperback (10/10/2012)
Paperback (4/21/2014)
Paperback (9/9/2014)
Paperback (12/22/2014)
Paperback (1/1/2016)
Paperback (5/1/2014)
Paperback (9/1/2015)
Paperback (3/29/2016)
Paperback (2/12/2016)
Description
They came from outer space...When four Martian spaceships land on Earth, masses of people flee the cities, hoping to escape from the hostile alien creatures sweeping across the countryside. With deadly heat-rays and giant fighting machine they want to conquer Earth and keep humans as their slaves.So begins The War of the Worlds, the science fiction classic that first suggested the possibility of intelligent life on other planets and has fascinated readers for generations. This compelling tale describes the Martian invasion of Earth. When creatures land in England, complete chaos erupts. Using their fiery heat rays and crushing strength, the aliens just may succeed in silencing all opposition. Is life on earth doomed? Will mankind survive? A timeless view of a universe turned upside down, The War of the Worlds is an imaginative look into the possibilities of the future and the secrets yet to be revealed.The War of the Worlds has thrilled countless readers since it was first published in 1891. (The story even caused widespread panic among a radio audience listening to a dramatization of the tale in 1938.) This gripping tale will thrill new generations with its exciting accounts of interplanetary travel and cosmic warfare.
Independently Published, 9798576759569, 174pp.
Publication Date: December 5, 2020