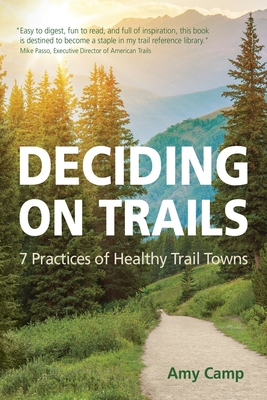 Deciding on Trails
7 Practices of Healthy Trail Towns
Paperback

* Individual store prices may vary.
Description
DECIDING ON TRAILS is for every local champion, thought leader, and dreamer who knows that trails can make a difference in their community if only their town would recognize the value of trails. Written by one of the first Trail Town practitioners, it covers the history of Trail Towns, recommended best practices, and how the concept has been adapted in dozens of places around the U.S. and Canada. This book is not a "how to" for structuring a Trail Town program. Rather, it is a call to action for trail communities and those dedicated individuals who want to cultivate a trail culture, embrace Trail Town best practices, and to once and for all "decide on trails." If you want more for your community and know that trails are part of the solution, this is the book for you.
WHAT OTHERS ARE SAYING ABOUT DECIDING ON TRAILS "Deciding on Trails is a 'must read' for communities that hope to integrate trails into their placemaking efforts. Amy's passion, knowledge, and empathy are evident in her work and make her the perfect person to tell this Trail Towns story." --Laura Torchio, Director of Education, Project for Public Spaces "This ground-breaking book addresses head on something that has long been missing from conversations about trails: that they are more than the sum of their economic impact. Amy perfectly captures the many reasons communities ought to connect to their trails. Easy to digest, fun to read, and full of inspiration, this book is destined to become a staple in my trail reference library. " --Mike Passo, Executive Director of American Trails "Deciding on Trails is a book for people who want more for their places. This carefully researched, heartfelt book will easily convince community champions to embrace their trails. And these pages are not only full on inspiration, but this book provides these champions with the tools they need to make the most of their community's trails." --Kent Spellman, Consultant at Rails-to-Trails Conservancy
Independently Published, 9798578619489, 230pp.
Publication Date: December 29, 2020