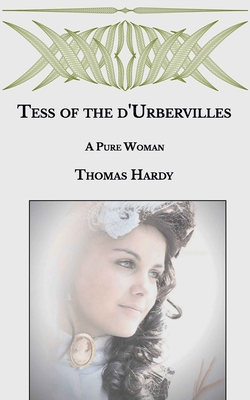 Tess of the d'Urbervilles
A Pure Woman
Paperback

* Individual store prices may vary.
Other Editions of This Title:
Digital Audiobook (7/27/2008)
Digital Audiobook (4/28/2011)
Paperback (2/19/2021)
Paperback (10/10/2018)
Paperback (2/26/2020)
Paperback (11/17/2013)
Paperback (1/3/2020)
Paperback (7/15/2020)
Paperback (1/9/2021)
Paperback (3/10/2020)
Paperback (2/24/2016)
Paperback (4/15/2021)
Paperback (1/30/2021)
Paperback (1/8/2013)
Paperback (4/4/2010)
Paperback (9/26/2019)
Description
The novel is set in an impoverished rural England, Thomas Hardy's fictional Wessex, during the Long Depression of the 1870s. Tess is the oldest child of John and Joan Durbeyfield, uneducated peasants. However, John is given the impression by Parson Tringham that he may have noble blood, as "Durbeyfield" is a corruption of "D'Urberville", the surname of an extinct noble Norman family. Knowledge of this immediately goes to John's head.That same day, Tess participates in the village May Dance, where she first sees Angel Clare, youngest son of Reverend James Clare. Angel is on a walking tour with his two brothers, but stops to join the dance and partners several other girls. He notices Tess too late to dance with her, as he is already late in returning to his brothers. Tess feels slighted.
Independently Published, 9798589881653, 314pp.
Publication Date: January 9, 2021