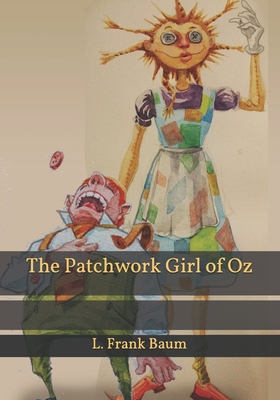 The Patchwork Girl of Oz
Paperback

* Individual store prices may vary.
Other Editions of This Title:
Paperback (8/31/2012)
Paperback (3/14/2013)
Paperback (5/1/2012)
Paperback (2/22/2020)
Paperback (10/22/2020)
Paperback (2/5/2021)
Paperback (9/25/2019)
Paperback (2/5/2021)
Paperback (4/9/2013)
Paperback (2/22/2020)
Paperback (11/13/2017)
Paperback (2/7/2021)
Paperback (9/17/2020)
Paperback (4/4/2020)
Description
"WHERE'S the butter, Unc Nunkie?" asked Ojo.Unc looked out of the window and stroked his long beard. Then he turned to the Munchkin boyand shook his head."Isn't," said he."Isn't any butter? That's too bad, Unc. Where's the jam then?" inquired Ojo, standing on a stoolso he could look through all the shelves of the cupboard. But Unc Nunkie shook his head again."Gone," he said."No jam, either? And no cake-no jelly-no apples-nothing but bread?""All," said Unc, again stroking his beard as he gazed from the window.The little boy brought the stool and sat beside his uncle, munching the dry bread slowly andseeming in deep thought."Nothing grows in our yard but the bread tree," he mused, "and there are only two more loaveson that tree; and they're not ripe yet. Tell me, Unc; why are we so poor?
Independently Published, 9798591787431, 208pp.
Publication Date: January 8, 2021