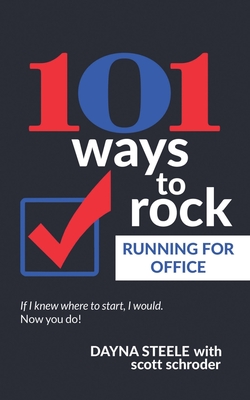 101 Ways to Rock Running For Office
Paperback

* Individual store prices may vary.
Description
Running for office is one of the most patriotic things you can do for your community and for your country. However, most citizens don't because they don't know where to start. Here's a guide to get you started from student council to the US Congress Whether it is for student council or a congressional seat in Washington DC, Dayna Steele and Scott Schroder have put together this guide to help YOU run for office. Dayna and Scott became an unlikely duo when Dayna ran for Congress in 2018 and Scott was hired as her Body Man - someone on a campaign who stays close to the candidate at all times and does everything from advice to drive to carry her purse. The two barnstormed across nine Texas counties and 7500 square miles in a large pickup truck wrapped in Dayna's image and the US Constitution. They talked to thousands of voters from both sides, ate entirely too much fried chicken and fried okra, and were chased by a few unhappy dogs and the occasional redneck. Two unlikely collaborators - a budding political activist and a former rock and roll deejay teamed up to rock Southeast Texas during a congressional race in 2018 - Dayna short, centrist, older, female, mom, almost retired, never involved in politics. Scott young, very tall, left of left, just starting out, political junkie. Assigned to Dayna as her "body man" early in her primary race, the unlikely duo formed a strong friendship and eventually made a difference in SE Texas politics. Now, they team up to show others they too can run for office and should. Dayna Steele is a rock radio Hall of Famer, motivational speaker, business author, how to succeed podcaster, and was the 2018 Democratic candidate for the Texas 36th congressional district, one of the reddest districts in the United States. With no political experience other than the occasional protest or snarky Twitter comment, she took on 7500 square miles that included the 4th largest city in the US and also some of the most rural areas in the country. Even though she lost (bigly), she helped change the political climate in her part of Texas and changed the political and voting landscape in Harris County, one of the largest counties in the country. Scott Schroder served as Dayna's "body man" during her 2018 run for Congress in Texas, and prior to that, was politically active in college while attending the University of Mississippi as a political science major. Before joining Dayna, Scott was a sportswriter in addition to his political work, covering German soccer and Ole Miss football on a freelance basis. Since Dayna's race, he has continued working in politics for Democratic candidates from his hometown of Houston."There are good people who do not fear, who know there is a world of peace and hope waiting. If we keep moving forward, we will eventually drag people toward it. That's just the way change is. This is how it works in America. We can create change. And you can start with Dayna's book." - Melissa Etheridge, musician"I was impressed by Dayna's run for Congress in 2018. She ran a tough race in what many thought was an impossible district. While she didn't win, she outperformed most everyone's expectations and inspired others to think about running as well. Now she's shared her experience in this book as a guide for aspiring candidates." - Beto O'Rourke"Dayna Steele is a rock-n-roll legend who was born to run. Her hard-earned lessons from her congressional race will save you time and money, and earn you votes." -Paul Begala, political strategist "I've volunteered for hundreds of candidates, but it's different when it's you. Each race I've run (of 11) was a unique set of circumstances-what didn't change is the elements of a campaign. This is a clear and concise "how to guide" to help you take the leap and build the wings that will let you fly." - Annise Parker, The Victory Fund CEO and former Houston mayor.
Independently Published, 9798592467516, 230pp.
Publication Date: February 15, 2021