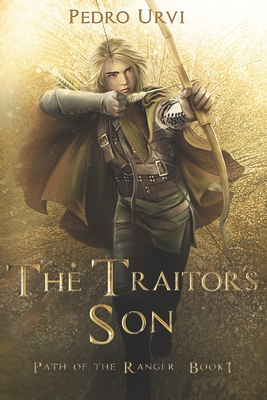 The Traitor's Son
(Path of the Ranger Book 1)
Paperback

* Individual store prices may vary.
Description
A kingdom in danger, a great betrayal, a boy seeking to redeem his father's honor. Will he succeed in exonerating him and saving the realm from an enemy in the shadows before it is too late for the whole North? By the age of fifteen, Lasgol has endured a hard childhood and lives, cornered and hated, in a small village in the North. He is the son of the traitor, the man who betrayed the kingdom and tried to kill the King. His only companions are the mountains and the snow, ever-present in the region. Yet he refuses to believe that his father is guilty, even though the King himself was a witness to the betrayal. Lasgol is determined to clear his father's name and to do this he has only a single option: the School of Rangers, a secret place where the respected and feared defenders of the lands of the kingdom are trained for four years. Going there is insane, hate and death await him. But as the son of a Ranger, he is entitled to attend. At the Camp he will find himself involved in political intrigues, disloyalties and fights. He will encounter hatred and fearsome enemies, but also a handful of friends, novices as much out of place as he is himself, determined to do whatever is necessary to pass the first year... without dying in the attempt. Will Lasgol survive the first year of instruction at the Rangers' Camp? Will he find out what happened to his father? Will he be able to clear his name? Find out while you follow fascinating adventures with a group of characters you will fall in love with. Epic fantasy full of adventure, action, magic, mystery and some romance for all ages: children, teens and adults. Enjoy this book with your kids and family. The adventure begins right now
_____________________________________________________________________ About this series:
Genre: Epic fantasy, sword & sorcery, action & adventure, coming of age, fantasy & magic.
Audience: Middle-grade, teen, young adult, adult.
Setting: Continent in quasi-medieval times and with magic users.
Reader age: 8+
Explicit language: None.
Completeness: It is an ongoing series.
Similar/influenced by: The Ranger's Apprentice, Lord of the Rings, Harry Potter, Dragonlance...
_____________________________________________________________________ Path of the Ranger Series:
1. The Traitor's Son
2. The King's Secret
3. Mystery in the Tundra
4. Treason in the North
5. The Secret Refuge
6. Path of the Specialist
7. The King of the West
8. The Turquoise Queen
9. Power Conspiracy
10. The Great Council
11. Frozen Origins
12. Dragon Spirit
_____________________________________________________________________ A saga that will keep you gripped Epic fantasy for the whole family
Independently Published, 9798600420458, 332pp.
Publication Date: January 18, 2020