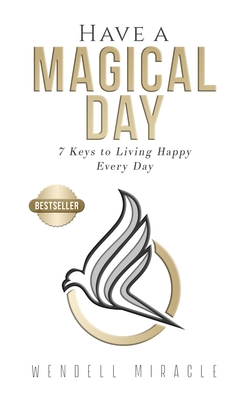 Have a Magical Day
7 Keys to Living Happy Every Day
Paperback

* Individual store prices may vary.
Description
You do not need to wait for all your prayers to be answered to be happy.
You do not need to wait until all of your dreams are fulfilled to start celebrating your life.
You can make every day magical and every day happy.
Wendell Miracle suffered from anxiety, depression and went bankrupt.
Now he's living a life of abundance, and has an Instagram account with over 350,000 followers who look forward to his daily motivational posts. He has also been featured on the front page of Yahoo Finance who described him as: "Wendell Miracle is a one-of-a-kind social media influencer who cares more about emotional wellness than popularity or financial gain."
Wendell is also a widely popular life coach who's helped thousands of clients achieve career, relationship, and financial success.
Now you can get access to what Wendell Miracle teaches in his book "Have a Magical Day."
This book proposes powerful principles that each person can implement in their life to manifest their goals and dreams, to enjoy the process and journey along the way, and to be happy every single day.
This amazing book will change your life.
Get yourself a copy and take a big step on your route to lasting happiness.
Independently Published, 9798605340454, 112pp.
Publication Date: February 17, 2020