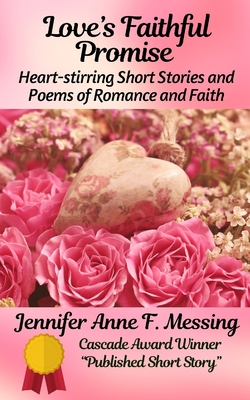 Love's Faithful Promise
Heart-stirring Short Stories and Poems of Romance and Faith
Paperback

* Individual store prices may vary.
Description
Award-winning author Jennifer Anne F. Messing's new book, LOVE'S FAITHFUL PROMISE, offers 18 poignant and romantic short fiction stories about everyday people living love's exciting journey, facing its challenges and difficulties, and rejoicing in its triumphs. The pages sparkle with soul-stirring love quotes, Bible verses, and the author's own heart-felt poetry. From courtship to wedlock, from early marriage to empty nesters, these tender tales of love, faith, and family will encourage your heart. Be swept away as you immerse yourself in these sweet stories affirming LOVE'S FAITHFUL PROMISE... ❤ "Love's Faithful Promise" is the best inspirational book Jennifer Anne Messing is a wonderful writer, and all the short stories were full of love, humor, and romance which gave me a lot of inspiration. Thank you, Jennifer Anne, for writing such a beautiful book full of wonderful vignettes that have inspired me to draw closer in my walk with the Lord and to leave everything in his hands. -Eli C., Amazon reader ❤ "Love's Faithful Promise" touches the heart. Jennifer Anne F. Messing's book, "Love's Faithful Promise" lives up to its title in so many ways. She masterfully weaves the love of God together with the 'love' longing of the human heart. The Scripture verses chosen, and her original poetry pieces, add to the enjoyment of reading each of these sweet love stories. The book is beautifully done and definitely meant to touch the heartstrings of those who appreciate being in love for a lifetime.-Maxine Marsolini, author of "Blended Families" and "Rebuilding Families" ❤ I have been blessed by Jennifer Anne Messing's short stories and poetry. Each piece has been worthy of savoring, enjoying the visual presentation, delighting in the scenes and verses, as well as the words that make up each passage and stanza. I plan to take my time in completing "Love's Faithful Promise" as I desire to take pleasure in these morsels, as an appreciated excellent dessert, or rather, a box of assorted and preferred chocolates.-Linda G., author and reader ❤
Independently Published, 9798608901386, 240pp.
Publication Date: February 4, 2020