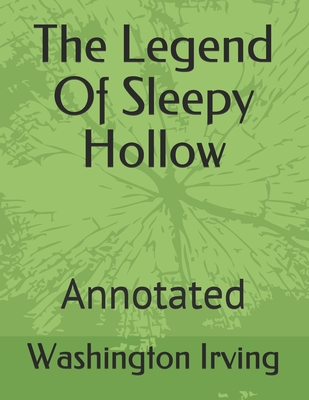 The Legend Of Sleepy Hollow
Annotated
Paperback

* Individual store prices may vary.
Other Editions of This Title:
Paperback (6/13/2017)
Paperback (2/20/2020)
Paperback (6/3/2017)
Paperback (2/1/2019)
Paperback (3/17/2007)
Paperback (9/23/2015)
Paperback (9/12/2008)
Paperback (12/5/2011)
Paperback (11/5/2015)
Paperback (11/27/2017)
Paperback (8/8/2018)
Paperback (2/24/2013)
Paperback (11/23/2015)
Paperback (9/1/2004)
Paperback (1/3/2019)
Paperback (11/4/2018)
Paperback (9/29/2010)
Paperback (4/20/2013)
Paperback (4/22/2015)
Description
The "Legend" relates the tale of Ichabod Crane, a lean, lanky and extremely superstitious schoolmaster from Connecticut, who competes with Abraham "Brom Bones" Van Brunt, the town rowdy, for the hand of 18-year-old Katrina Van Tassel, the daughter and sole child of wealthy farmer Baltus Van Tassel.The Legend of Sleepy Hollow" tells the story of Ichabod Crane and his hapless attempt to win the heart and hand of Katrina Van Tassel in the context of a comical ghost story. Ichabod comes to Sleepy Hollow, New York, from his home state of Connecticut, to be the schoolmaster of the village.About Author: Washington Irving (April 3, 1783 - November 28, 1859) was an American short-story writer, essayist, biographer, historian, and diplomat of the early 19th century. He is best known for his short stories "Rip Van Winkle" and "The Legend of Sleepy Hollow", both of which appear in his collection The Sketch Book of Geoffrey Crayon, Gent.
Independently Published, 9798613881819, 40pp.
Publication Date: February 14, 2020