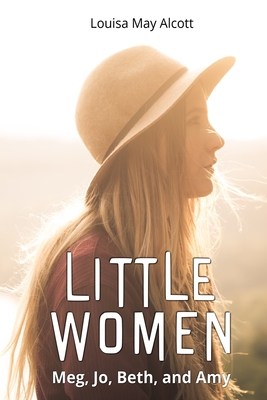 Little Women
Meg, Jo, Beth, and Amy
Paperback

* Individual store prices may vary.
Other Editions of This Title:
Paperback (12/3/2020)
Paperback (5/18/2008)
Paperback (2/10/2020)
Paperback (5/31/2020)
Paperback (9/25/2019)
Paperback (5/31/2020)
Paperback (2/20/2007)
Paperback (4/5/2020)
Paperback (1/24/2020)
Paperback (6/2/2020)
Paperback (2/12/2021)
Paperback (4/4/2020)
Paperback (4/7/2020)
Paperback (5/31/2020)
Paperback (6/27/2020)
Paperback (5/31/2020)
Paperback (6/27/2020)
Paperback (5/31/2020)
Paperback (3/16/2015)
Description

A beautiful new Deluxe Edition of Alcott's beloved novel, with a foreword by National Book Award-winning author and musician Patti Smith. Nominated as one of America's most-loved novels by PBS's The Great American Read. Little Women is recognized as one of the best-loved classic children's stories, transcending the boundaries of time and age, making it as popular with adults as it is with young readers. The beloved story of the March girls is a classic American feminist novel, reflecting the tension between cultural obligation and artistic and personal freedom. But which of the four March sisters to love best? For every reader must have their favorite. Independent, tomboyish Jo; delicate, loving Beth; pretty, kind Meg; or precocious and artistic Amy, the baby of the family? The charming story of these four "little women" and their wise and patient mother Marmee enduring hardships and enjoying adventures in Civil War New England was an instant success when first published in 1868 and has been adored for generations. PRAISE "I, personally, am Jo March." -Barbara Kingsolver "Amy, Beth, Meg and Jo-who was probably why I became a writer-were my family and friends." -Gloria Steinem "I remember Louisa May Alcott's heroines more vividly than some real people I dimly recall from my early] years." -Francine Prose "Little Women, an indelibly formative reading experience for so many of us, exists almost in a category of its own." -Sarah Lyall

Independently Published, 9798621222079, 258pp.
Publication Date: March 6, 2020